HOMEscape Solutions Design Workshop is a unique enhancement to the Master Gardener program, which inspires, empowers and encourages participants to successfully plan and execute their dream landscape.
Sandoval County Master Gardeners are offering a fun, team oriented landscaping workshop for the home gardener! Master gardeners will inspire, empower, and encourage you to successfully plan and produce your dream landscape!
Class is limited to 24 participants and fills up fast, so sign up early. Your confirmed registration will be complete with receipt of your payment.
Where: St. Francis Church, 2903 Cabezon Road, Rio Rancho, NM 87124 
Deadline to Register: September 9,  2019
Two Steps to Register Online:
1. Fill out the simple registration form. Click here
2.  Pay registration fee of $95. Click Here to Pay via PayPal or Credit Card (Includes Design Kit Materials, 3 Lunches, and Snacks)
To Register Via US Mail:  Send the following via US Mail to the below address.
Check, made payable to "SCMG" for $95 to pay registration fee. M

(Includes Design Kit Materials, 3 Lunches, and Snacks)

A note that includes your full name, phone number, email address and physical address.
SCMG
c/o Cathryne Richards
PO Box 393
Placitas, NM 87043
For More Information: homescapeinfo@yahoo.com
Download Our Flyer: HOMEscape Solutions Design Workshop – 2019
2019 CLASS SCHEDULE

Class 1
Fri – 9/13
6:30-9:30 PM
HOMESCAPES:
The Vision and The Reality
Class 2
Sat – 9/14
9:30AM-3:30 PM
GET PERSPECTIVE!
Training the Eye & Native Plants
Class 3
Sat – 9/21
9AM-3PM
GO LOCAL! (HOME VISITS)
Your team will visit your home for input and suggestions.
OPTIONAL
Expert Access
Tues – 9/24
10AM-8PM
HOMESCAPE EXPERT ACCESS
Get One-On-One Help with Your Plan!
Class 4
Sat – 9/28
9:30AM-3PM
COME TOGETHER!
Celebration and Final Presentations!
This is what I would love to have . . .
And now I have the tools and vision to accomplish my dream-scape project within my time frame and my budget – I CAN DO THIS!"
(Actual quote from former HOMEscape participant)
This class, developed by SCMG's Darlene Chandler Bassett and Cathryne Richards, has been serving the community for over 10 years and is designed for both Master Gardeners and homeowners alike who want more information about solving landscaping challenges.
Together, these two vibrant women have developed a curriculum for participants to work in teams to create their dream landscapes and turn their ideas into reality. HOMEscape participants will learn how to dream big and then focus on a small aspect of their dream landscape, actually completing their project within the course curriculum.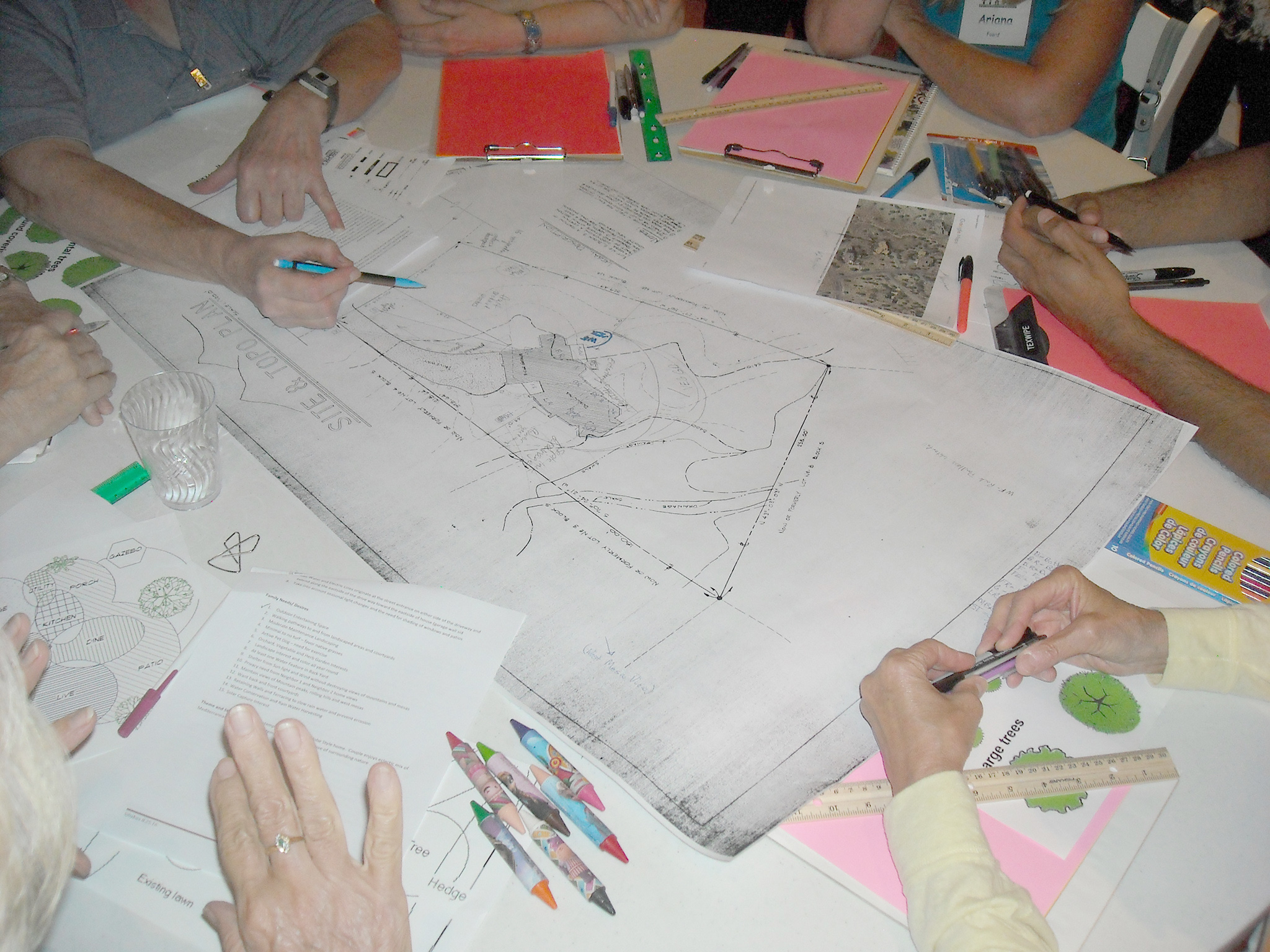 Incorporating a unique mentoring and development component to the curriculum – utilizing veteran HOMEscape participants as Team Leaders who also assist in facilitating at least one workshop – ensures on-going support, feedback, and assistance in developing each participant's dream HOMEscape. These critical front-line Team Leaders – who have also broken through their own barriers of limited financial resources and intimidation to translate their dreams into reality – are committed to facilitating home visits for every team member, recording their "before" project in photographs, and working closely with each participant on their total plan. Emboldened by this unique support, participants are able to stay focused on their current project while not losing sight of their long-term vision.
Presenters and Team Leaders are seasoned Master Gardeners who share their expertise:
Artistic and Aesthetic Design Professional
Xeriscape Specialist (participated in Xeriscape Conference for six years)
Certified Permaculturist
Tree Steward Steering Committee Member from "Keep Rio Rancho Beautiful"
Our homes are usually our largest investment. WE all have a dream for our property, but often the reality of what we desire is overwhelming. Many gardeners face multiple environmental challenges in the harsh and often drought-ridden climate of New Mexico. HOMEscape Solutions is a template that is relevant and practical to the micro-climates and environmental concerns of each individual location.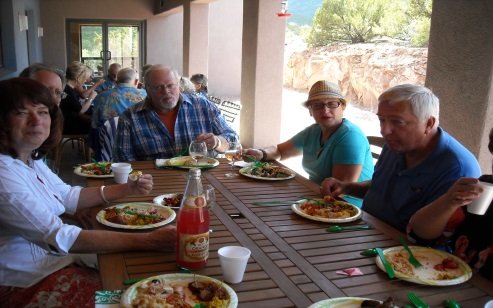 The final week of the course culminates in each participant's brief and simple account of their project, sharing with the class the materials used in their project, a time line for the work to be completed, an estimated budget, and – most importantly – their personal satisfaction as a result of their accomplishment! Our successes are celebrated during this final session with food and special award presentations.