Project Description: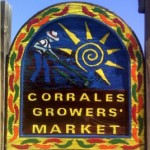 The primary purpose of the SCMG presence is public education and interface with Market attendees. Volunteers answer questions, sharing information on all gardening topics, researching, problem identification, problem-solving.  Special demonstrations and educational projects are also a part of the assignment.
Volunteers:
Three-Four SCMG volunteers are needed each week.
Meeting Times and Location:
Corrales Growers Market is scheduled each Sunday from 9 AM to noon from the last week of April to the last week of October. The Corrales Growers Market is located on Corrales Road and Jones Road (next to the Corrales Post Office)
MG's who work the Growers Market are expected to be there from 9 to 12.
Contact: You can reach Jannetta for questions at (505) 382-5253  or Jannetta@walkingcloudconsulting.com  or Joe Martinez (505) 228-3291