Rio Rancho Waterwise Demonstration Garden
The Garden illustrates the following features in a lovely park setting:
Native Southwest and drought tolerant plants
Drip, sprinkle and spray irrigation systems
Examples of bark, pecan, wood chip, crusher fine and gravel mulches
Water harvesting techniques: dry creek beds, swales, berms and drain ways to catchment areas
Slope planting techniques
Paths connecting gardens utilizing various local materials
A Meditation Garden and mediation spiral
A grape arbor with fruit bearing vines
Volunteers are needed the 2nd and 4th Wednesday of the month from March through October – 8:30 AM to 11AM.
Meeting Location: WaterWise Garden, 950 Pine Tree Road; Rio Rancho NM 87124 (just off Southern Blvd., between Rio Rancho Post Office & Esther Bone Library east side of parking lot)
Volunteer opportunities are open to Master Gardeners and RR Tree Stewards.  Directed volunteers are needed for pruning, weeding, general grooming and maintenance; contact Carol Groppell or Christine Tade for the garden's current needs and sign-ups.

Main Education/Training Tasks: Volunteers receive hands-on training and education about the care, maintenance and propagation of the plants and trees growing in this garden. Volunteers experience the joys and gratification of gardening even if they don't have one of their own. Volunteers received hands-on experience locating and repairing the irrigation system. The garden is available for educational group tours and demonstrations. Restrictions or Special Requirements: There are uneven walking surfaces throughout the garden. In addition, the City of Rio Rancho does not allow smoking or alcoholic beverages in the Garden.
Completed Projects:
Built shelves and tool hangers and organized tool shed
Added Pecan Shell mulch
Planted many varieties of trees, shrubs and perennials
Works with Rio Rancho City Park personnel to check and improve irrigation system and the garden
Served as one of the three demonstration gardens for the 2018 Master Gardener annual conference
Happenings and Events:
Esther Bone Library and the WaterWise Garden Partner for an annual Earth Day Celebration, Arbor Day Celebration and an evening "Walk and Talk"
Please check the Event Calendar for upcoming events…
The WaterWise Demonstration Garden (WWG) in Rio Rancho, New Mexico, is a cooperative effort of the City of Rio Rancho and the Sandoval Extension Master Gardeners, who also partner with the Rio Grande Basin Initiative, Rio Rancho Tree Steward Volunteers and local businesses. The WaterWise Garden adjoins the Veterans Memorial Park and encompasses land which has been divided into multiple gardening zones to exemplify landscapes that are easy to replicate in the Southwest homeowner's property. The Garden originated in 2001 through the visionary efforts of Tina Forgrave with award winning updates and expansions occurring in 2006 through 2008.
The Rio Rancho WaterWise Demonstration Garden was awarded the 2009 International Master Gardener "Search For Excellence Award!" "Search for Excellence" is a program recognizing Master Gardener volunteer work throughout the United States and Canada. The "Search for Excellence" is designed to recognize outstanding group projects, not an individual who does outstanding work.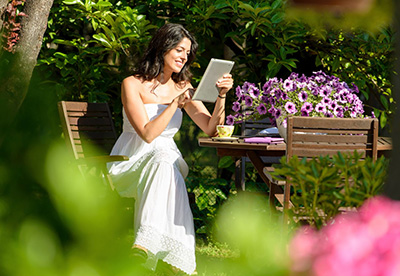 Newsletter
Stay informed and up to date on all the latest SEMG news. Read the latest issue of our Newsletter.
Get Involved
There are many Master Gardener projects that need your support. We appreciate all of your efforts!
Become a Master Gardener
Interested in joining our program? Register for the Intern Classes running from February 2021 to May 2021.