Project Description
: Home Visits are typically requested through the Agriculture Agent, Hot Line or Hot Line-like projects such as Plant Clinics, Growers Markets and Help Desks, organized by Master Gardeners to answer plant or gardening questions at local events. A home visit request may also come through a former client, Master Gardener and their neighbors. Visits are recommended when a Master Gardner or the Agent cannot fully answer a client's plant or horticulture question without the benefit of inspecting the issue at the client's property.
Home Visits are a one-on-one educational volunteer opportunity for Master Gardeners to answer plant, irrigation, landscaping and other horticulture questions at the client's home. Often there is follow-up research required for which the volunteer(s) earn additional credit. For this the Master Gardener volunteer will contact the home owner by phone or e-mail to respond with the additional information.   The Home Visit Report (link to Home Visits Report Form) information is completed for each visit and copies sent to the Agent and Home Visits Project Chair.   The yearly Home Visits Project summary report is completed by the Project Chair and shared with the Agent, the SCMG Hotline Project Chair(s), and NMSU.
The Sandoval County public residents and Master Gardeners are both the beneficiaries of this project. Sandoval Extension Master Gardeners may earn Hotline Volunteer credit for participating in this project. Master Gardener Veteran and Intern volunteers learn from visual knowledge of the horticultural landscape and plant specimens and analysis results.
Volunteers: Sandoval County Master Gardener Veterans typically volunteer to attend home visit requests. Interns should accompany a Veteran Master Gardener on a Home Visit.   It is desirable that more than one volunteer attend a home visit to benefit from the volunteer experience and to provide for security. It is important to know that volunteers are meeting with the owner of the property, or have permission from the owner to meet with a renter or landscaper.
Project Meeting Time and Location:   Volunteers meet at the home property of a Sandoval County resident requesting the home visit or that was referred by the Hotline or Extension Office. Home visit requests are scheduled and organized by the project chair or the responsible Master Gardener volunteer. It is encouraged that multiple volunteers car pool to the residence.
Project Chair:           Sandra Liakus SCMG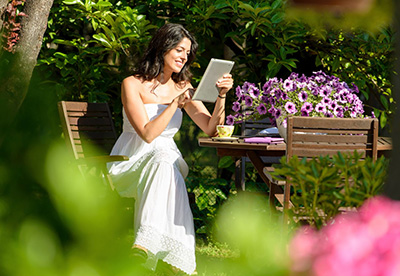 Newsletter
Stay informed and up to date on all the latest SEMG news. Read the latest issue of our Newsletter.
Get Involved
There are many Master Gardener projects that need your support. We appreciate all of your efforts!
Become a Master Gardener
Interested in joining our program? Register for the Intern Classes running from January 2020 to May 2020.