When:
September 24, 2022 @ 9:00 am – 5:00 pm
2022-09-24T09:00:00-06:00
2022-09-24T17:00:00-06:00
Where:
Village of Corrales
Corrales
New Mexico
It's almost time for the Corrales Harvest Festival!
This years event will be held the last weekend of September, 9AM-5PM. There will be plenty of food, crafts, fine arts, and activities. Come and join the fun at the Corrales Harvest Festival!
Sandoval Extension Master Gardeners will be manning an outreach/information table during the Corrales Harvest Festival this year, but the primary focus will be Painting with Seeds.
Volunteers Needed!: SEMG volunteers will introduce kids to seeds and help them create their own seed art masterpieces. All volunteers will receive a pass for the festival and hay wagons. Three hour shifts will be available on both Saturday and Sunday. Please sign-up via the SEMG Volunteer Sign-Up Sheet.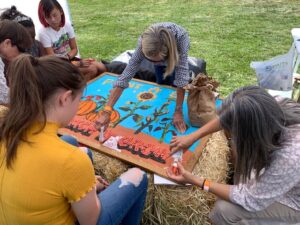 When: September 24th & 25th, 8:30 am – 5:30 pm
Shift 1: 8:30 am – 11:30 am

Shift 2: 11:30 am – 2:30 pm

Shift 3: 2:30 pm – 5:30 pm
Where: We will have three tents on the Corrales Soccer fields adjacent to the Kids Zone.
What to Bring: Volunteers should bring water.
This event is open to all SEMG members. Please contact Sam Thompson or Ginger Golden if you have any questions or would like more information: samandjohnthompson@gmail.com, gingergolden@msn.com