When:
September 14, 2023 @ 7:00 am – 9:00 am
2023-09-14T07:00:00-06:00
2023-09-14T09:00:00-06:00
Where:
Lynn Garden
176 Manierre Road
Corrales
NM 87048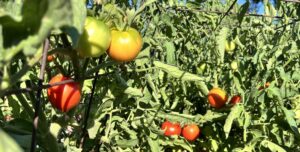 Harvesting Fruit & Veggies
We will continue to harvest the gardens this week. We are welcoming the relatively cooler weather, but hoping that the forecast for rain on Tuesday doesn't impact our ability to harvest. If it rains on Tuesday, we'll send out a cancellation notice via our email distribution list. You can sign-up for session notifications on your website homepage.
If you have the time, we'd love to see you out at the garden. Please join us if you can!
Our next work sessions will start at the Lynn garden on:
CANCELLED!

Tuesday, September 12th: 7:00 AM – 9:00 AM
Thursday, September 14th: 7:00 AM – 9:00 AM
The Lynn garden is located just east of 176 Manierre Road in Corrales. Please park in the lot just east of the residence. Thanks…S2N
Note: Bring some water, gloves, a hat, and your favorite pruning shears.
***Follow us on Facebook and Instagram @Seed2Need