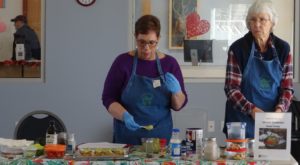 Plan, prep, and present healthy simple plant based recipes to Senior Centers in Bernalillo, Jemez Valley, Pena Blanca and Cuba.  (Jemez is pending confirmation of day.) Demos begin at 10:00 am and must be finished and cleaned up by 11:30 am. Recipes must be submitted to the Center Directors via Lynda, by the 15th of the month to be posted in their newsletter.  Participants must have successfully completed Garden2Table training with exceptions given to trained cooks or chefs.
Bernalillo Senior Center 801 Rotary Park, Bernalillo, NM 87004,  Pena Blanca Senior Center 778 Highway 22, Pena Blanca, NM 87041, Cuba Senior Center 16-A Cordova ST, Cuba, NM 87013, Corrales Senior Center 4324-A Corrales Rd., Corrales, NM 87048
Contact Lynda 977-9574 or lgarvin@nmsu.edu for details.
Sign up below...