Sandoval Extension Master Gardeners will be manning an outreach/information table during the Corrales Harvest Festival this year, but the primary focus will be Painting with Seeds. SEMG volunteers will introduce kids to seeds and help them create their own seed art masterpieces. All volunteers will receive a pass for the festival and hay wagons. Three hour shifts will be available on both Saturday and Sunday.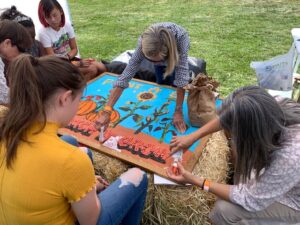 When: September 24th & 25th, 8:30 am – 5:30 pm
Shift 1: 8:30 am – 11:30 am

Shift 2: 11:30 am – 2:30 pm

Shift 3: 2:30 pm – 5:30 pm
Where: We will have three tents on the Corrales Soccer fields adjacent to the Kids Zone.
What to Bring: Volunteers should bring water.
This event is open to all SEMG members. Please contact Sam Thompson if you have any questions or would like more information: samandjohnthompson@gmail.com
Sign up below...