Saturday, July 23rd from 8:30 am to 11ish
Please join us Saturday, July 23rd from 0830 to 1100 as we welcome SEMG veterans and interns, and our new county agent Rachel Zweig, to a get-together to enjoy each other's company while receiving orientation presentations to the next three "Working in the Dirt" projects located in Placitas and Bernalillo. We hope that you will be able to join us!
So we have an approximate number for refreshments, please RSVP via the volunteer Project Sign-up Sheet on our website.
The plan for the morning is that we will:
Start at 0830 at the Placitas Community Library

Located at 453 NM 163, approximately 4 miles east of Interstate 25 on North side of street

Presentation by Rebecca Pulford

Facilities available upon request to Rebecca

Regroup at approximately 0910 at Our Lady of Sorrows Church

Located at 301 S. Camino del Pueblo in Bernalillo

Presentation at New Beginnings Garden at Our Lady of Sorrows Catholic Church by Sandy Liakus, Lynette Fields and Sheila Coneen

Finish at 0945 with a presentation at the DeLavy/Sandoval County Historical Society Garden

Located at 151 Edmund Rd 

See included screen shot of map below from Dawn

Presentation at the Delavy garden by Dawn Foster

We will follow Dawn's presentation with socializing, with light refreshments, and the opportunity to meet Rachel

Facilities will be available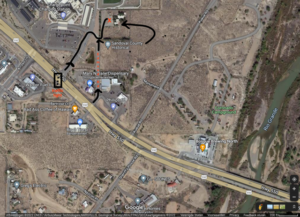 Note: Participants attending all three presentations will earn one hour of Education time.
Sign up below...