Gardening with the Masters Online
Gardening with the Masters is a long standing public education effort of the Sandoval Extension Master Gardeners. Though we cannot conduct classes in person at this time, we are offering live presentations through zoom.
Please join us for these upcoming topics. If you cannot make the in-person presentation, the slides and videos will be available as soon as possible.
---
 Upcoming Topics
April 20    2:00 pm
Raised Bed Gardening
Sandoval Extension Master Gardener Kevin Konetzni
A major advantage of raised bed gardening is the ability to extend your growing season.  If you have poor soil conditions, raised beds allow for better control.  And of course, raised beds can save a lot of wear and tear on the back. Click here to register online.
April 30    10:00 am
Tree and Shrub Protective Maintenance in Preparation of the Drought
Sandoval Extension Master Gardener Sandra Liakus
Drought is stressful for your trees and shrubs and can make them susceptible to a variety of insect predation and disease.  Learn strategies to protect both trees and shrubs in this presentation. Click here to register online.
May 26    2:00 pm
Bosque Tree Health
Albuquerque Biopark's Botanic Garden & Heritage Farm Manager Matt Peterson
Matt will talk about the effects of drought on bosque tree health and what management agencies are doing in regards to invasive species control and the subsequent habitat restoration efforts to support the silvery minnow and SW Willow flycatcher in the Middle Rio Grande. Click here to register online.
---
Previous Topics
Amending Desert Garden Soil
Master Composter John Zarola
February 23, 2021
Desert climate impacts desert soil characteristics.  Knowing your soil leads to activities which improve its fertility.  Maneuvers and suggestions will be discussed to augment desert soil fertility.
Amending Desert Garden Soil Video 1:33:44
Amending Desert Garden Soil Slides Part 1 and Part 2
Amending Desert Garden Soil Considerations handout
Seed Starting
Sandoval Extension Lifetime Master Gardener Judy Jacobs
March 3, 2021
Starting plants from seed is a great way to add diversity to your garden and save money doing it.  The lecture will cover seed starting equipment and resources, the process of growing seedlings indoors, and how to acclimatize them to the outdoors.
Starting Seeds Video 1:27:24
Starting Seeds slides Part 1 and Part 2
Judy Jacobs' Seed Envelope Label PDF and spreadsheet
Roses in the Desert
Sandoval Extension Master Gardener Kate Shadock
March 17, 2021
NM has both unique advantages and challenges for roses, even if you have successfully grown them elsewhere. This presentation is geared to help you understand selection, planting, and care of your roses.
Roses in the Desert Video — 1:09:20
Roses in the Desert slides
Roses Reference Sheet
Home Composting Basics
Bernalillo County Master Composter John Zarola
March 31, 2021
Learn the basics of composting as a way to improve and enrich your garden soil.
Home Composting Basics — 1:14:51
Home Composting Basics Slides
Home Composting Basics Resources
Management of Common Garden Pests
Valencia County Extension Interim Director Lynda Garvin
April 6, 2021

Aphids on your roses?  Concerned about those giant huge worms that devour your tomato plants?  Join us to learn what you can do to keep your garden plants healthy this season.
Management of Common Garden Pests — 58:52
Management of Common Garden Pest Slides, Part 1 and Part 2
Growing Tomatoes in the Desert Southwest
Sandoval Extension Master Gardener Sam Thompson
April 13, 2021
The challenges facing the tomato grower in the desert southwest include heat, intense wind, high UVs, low fertility and a variety of pests and disease.  Discouraged?  You don't need to be because there are helpful strategies that can allow you to grow tasty tomatoes in your backyard..
Growing Tomatoes in the Desert SW – 1:10:15
Growing Tomatoes in the Desert SW Slides
Growing Tomatoes in the Desert SW handout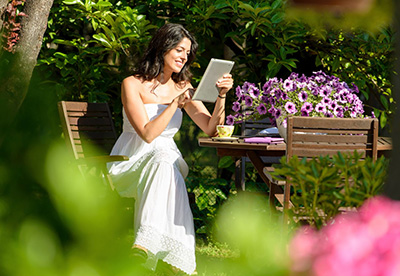 Newsletter
Stay informed and up to date on all the latest SEMG news. Read the latest issue of our Newsletter.
Get Involved
There are many Master Gardener projects that need your support. We appreciate all of your efforts!
Become a Master Gardener
Interested in joining our program? Register for the Intern Classes running from February 2021 to May 2021.