A Little Winter Cheer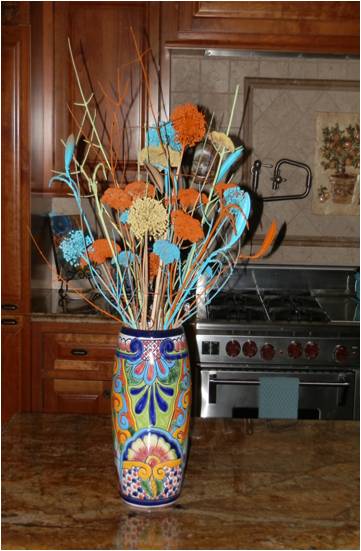 by Dave Pojmann, SCMG
The holidays are over, and the poinsettias are losing their leaves; it's too cold outside to do much in the garden, and you've already memorized the seed catalogs.
If you want a way to use what hard work and nature has provided in your garden. even in winter, and you want to replace those poinsettias with some color, here's an idea.  My wife wanted a way to add color to our décor as an interim between the holiday trimmings and spring, so we toured our garden to look for ideas.  We noticed seed pods on the trumpet vines, dead flowers on the garlic chive and leeks, dried up yarrow blossoms, and came up with some ideas.  She has a favorite Talavera vase, so we cut the dead flowers and sprayed them and twigs from our New Mexico olives with paint to match the vase.
Voila!  In less than an hour, and at minimal cost, we had  a colorful display for the kitchen counter.  She also placed garlic chive flowers in a vase without painting them.  As you can see in the pictures, the displays are colorful and attractive.  You too, may have plants in your garden that can be used in a similar manner.  All it takes is a little imagination and some spray paint.