April 2022 – Garden to Table Recipe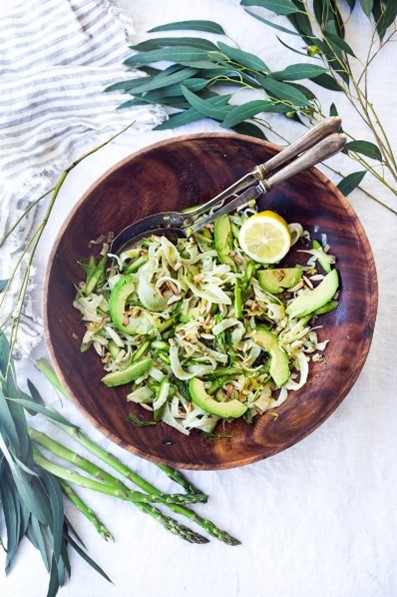 Fennel Asparagus Salad is our recipe of the month—a crunchy fresh salad using all of the season's best!
Crunchy and fresh, this salad pairs well with grilled fish, chicken, or tofu. Also delicious on a bed of spring greens with cucumber and radishes. A vegan salad that can be made ahead and holds well in refrigerator for several days.
Ingredients
1 large leek (white parts only)
1/3 cup olive oil (divided)
1 large fennel bulb (yielding about 2 cups)
4–6 large asparagus stalks
1 tablespoon fresh lemon thyme
2 tablespoons fresh lemon juice
¾ teaspoon sea salt
½ teaspoon ground black pepper
1 teaspoon ground coriander
¼ cup almonds, lightly toasted
½– 1 avocado, sliced
Instructions
Thinly slice the tender white part of the leek in half circles.  
Add 3 tablespoons of the olive oilto a cold sauté pan. Turn burner on to medium and add the leeks.  
Sauté until wilted and just starting to turn golden on the edges, about 6 minutes.  
Add a pinch of saltto the leeks and set aside to cool.
Core and shave the fennel bulb with a mandolin, peeler, or sharp knife, into very thin slices.  
Slice the asparagus diagonally at similar thickness to the fennel, discarding tough ends.
In a large bowl, add lemon thyme, lemon juice, salt, pepper, corianderand whisk in remaining olive oil.  
Add the sautéed leeks, sliced asparagus, and fennel.  
Toss to thoroughly incorporate dressing.
Add avocado slices and toasted almondsto serve.

Recipe/Photo Source: Tonia Schemmel for FeastingatHome.com