Garden2Table – November Recipes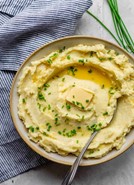 HEALTHY MASHED POTATOES
This recipe for mashed potatoes is full in flavor, but low in calories. These lighter mashed potatoes are made with naturally buttery Yukon potatoes, boiled with whole garlic cloves, and then mashed with low-fat sour cream, vegetable broth, and a tad of butter. For another healthier take on mashed potatoes using root veggies, consider trying this recipe at www.armagazine.com/mashed-veg-formula.
Source | www.feelgoodfoodie.net
Servings | 5
Total Time | 30 minutes
INGREDIENTS
2 pounds Yukon gold potatoes, peeled & cut into 2" chunks
4 garlic cloves, peeled and halved
½ cup low-fat sour cream or plain yogurt
2 Tbsp. butter or olive oil
Salt & pepper to taste
Fresh herbs like thyme, chives, or parsley for serving
               Photo:  Feelgoodfoodie.com
INSTRUCTIONS
Bring a large pot of salted water to boil. Place the diced potatoes and garlic inside the pot. Cook covered until the potatoes are tender, about 15 to 20 minutes.
Drain and return the potatoes and garlic to the pot. Add the sour cream, vegetable broth, and butter. Using a fork, masher, or electric beaters, mash the potatoes until smooth or until your desired consistency. Season with salt & pepper to tase.
Serve warm and top with fresh herbs.

NO-CHEESE SAUCE
This low-fat sauce makes a great Mac & "Cheese" or can be used in scalloped potatoes. Best of all, it takes only about 5 minutes to put together. If your onions are strong, blanch them in boiling water for a few minutes before adding them to the blender.
Source  Forks Over Knives – The Cookbook
Makes about 2 ½ cups
INGREDIENTS
1 large yellow onion, peeled & coarsely chopped
1 large red bell pepper, seeded & coarsely chopped
3 Tbsp. cashews, toasted
1 Tbsp. tahini
1 cup nutritional yeast
Salt & pepper to taste (add ½ tsp of nutmeg to add more flavor)
INSTRUCTIONS
Combine all ingredients in a blender in the order given and puree until smooth and creamy, adding up to ½ cup of water if necessary to achieve a smooth consistency.