Garden2Table Recipe Corner: A Fruit-Filled Summer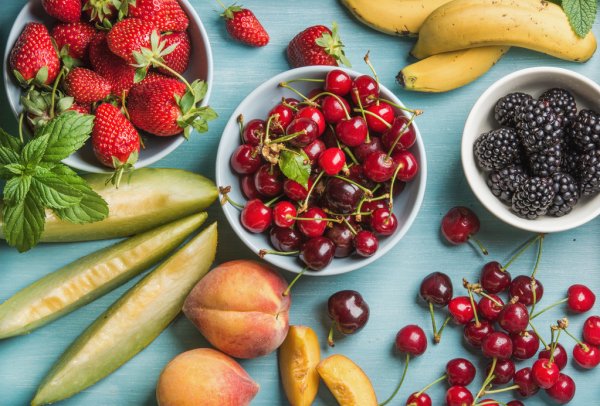 By Cassandra D'Antonio, Chair (SEMG 2012)
Happy June! This month's column is short, sweet & savory. Judging from the pictures I have seen on various gardening Facebook pages and blogs, your garden greens, berries, and cherries are maturing and being harvested and enjoyed.
I am focusing on fruit this month because it often gets a bad rap, especially by those who are watching their carbohydrate and sugar intake. According to this excellent Forksoverknives.com article, Why You Should Have a Fruit-Filled Summer: The Importance of Daily Fruit Intake,  Americans aren't eating enough fruits. But wait, don't fruits contain a lot of sugar? According to this article, fruits contain antioxidants and phytonutrients, which have been shown to help prevent and treat some of our most common diseases, like heart disease and Type-2 diabetes. Whole fruits can also help you to lose weight and lower cholesterol.
But, don't they contain a lot of sugar? Though fruits do contain sugar, they have not been shown to worsen existing diabetes when consumed whole. It is when they are consumed as juice, which concentrates the sugars to high levels, that fruit can increase body weight and the risk of diabetes, while whole fruit and its fiber content offer a protective effect by slowing digestion and absorbing the sugar load. Dieticians are now recommending multiple servings of fruit a day, saying there is likely no daily upper limit to healthy fruit consumption. So, feel free to gorge yourself without worry!
Below are savory, non-dessert recipes that will make increasing your fruit intake fun, healthy, and easy, while helping to use all your bountiful fruit.
FRESH CHERRY SALSA
Use this ruby-red cherry salsa to serve on top of juicy, grilled chicken breasts or favorite fish.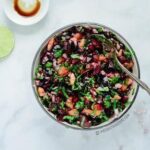 Ingredients
2 cups sweet cherries pitted & chopped
½  medium jalapeno, seeded, ribs removed, and finely diced
¼  cup shallot, finely diced
¼  cup of cilantro leaves, chopped
1 Tbsp. balsamic vinegar
1 lime, juiced
Salt & pepper to taste
Instructions
Add chopped cherries, diced jalapeno and shallots and toss.
In a small bowl, whisk together balsamic vinegar and lime juice and drizzle over cherries mixture.
Add cilantro, salt and pepper and mix well.
Allow flavors to meld before using or refrigerate to use later.
(Source: PicturetheRecipe.com)

CHERRY CHIPOLTE BBQ SAUCE
This sauce is rich and incredibly flavorful with notes of sweetness from the cherries, smoky heat from the chipotles, and a bright lift from fresh lime zest and juice. Baste or brush it on smoky pork tenderloin or grilled chicken.
Ingredients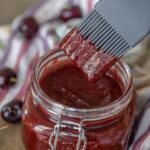 1 cup ketchup
1 cup fresh sweet cherries, pitted
1 chipotle pepper
1 Tbsp adobo sauce (taken from the can of chipotle peppers)
1 Tbsp Worcestershire sauce
1 Tbsp soy or tamarind sauce
1 Tbsp honey
1 Tbsp molasses
1 tsp garlic powder
1 tsp onion powder
1 lime, zested and juiced
Salt & pepper to taste
Instructions
In a medium saucepan, combine all the ingredients and bring to a boil. Reduce to a simmer and cook for 25 minutes, stirring often.
Turn off the heat and allow to the sauce to cool before transferring to a blender. Blend until the sauce is smooth or use an emulsion blender and blend in saucepan until smooth.
Sample your sauce and add in salt and pepper to taste.
Slather the sauce on chicken or pork or use it as a dipping sauce on the side.
Store any leftover sauce in a tightly sealed jar or container.
(Source: heygrillhey.com)

NECTARINE & BLUEBERRY SALSA
This sweet and savory fruit salsa is a treat for the eyes. Its mildly spicy flavor pairs perfect with crisp chips and cucumber slices, and it's also delicious as a salad topper.
Ingredients
1 fresh nectarine, pitted and chopped
1 cup of fresh blueberries
¾  cup of canned, no salt added, pinto beans, rinsed and drained
¼  cup fresh cilantro, chopped
1 Tbsp lemon juice
1 tsp pure maple syrup
¼  tsp crushed red pepper
Sea salt and fresh ground black pepper to taste
Instructions
In a medium bowl, stir together all of the ingredients and season with salt and pepper. Use immediately or refrigerate.
(Source: Forksoverknives.com)

ROASTED STRAWBERRY & HUMMUS BRUSCHETTA
This strawberry and hummus bruschetta is an eye-catching appetizer. The hummus is the surprise ingredient—it presents like a soft cheese and contrasts nicely with the sweetness of roasted fruit. Balsamic vinegar and black pepper amplify the natural sweetness of the strawberries. 
Ingredients

1 lb. fresh strawberries, hulled and halved
½  small red onion, chopped (¼ cup)
2 Tbsp balsamic vinegar, divided
3 Tbsp fresh basil, chopped and divided
½ tsp freshly ground pepper
¼ tsp lemon zest
Sea salt to tast
1 lb. loaf of French or Italian bread, cut diagonally into 3/4 -inch slices
1 cup of plain hummus
Instructions
Preheat oven to 375⁰F. Place strawberries and onion in a 15×10-inch pan. Drizzle with 1 Tbsp. of the vinegar and toss to coat. Roast 10 to 15 minutes or until strawberries are very soft and jamlike but still hold their shape. Pour strawberries and onion into a medium bowl. Add remaining 1 Tbsp. vinegar, 1 Tbsp. of the basil, the pepper, and lemon zest. Season with salt.
Meanwhile, place bread in a single layer on a baking sheet. Bake 8 to 10 minutes or until lightly toasted, turning once. Cool on a wire rack. Spread toasts with hummus and top with strawberry mixture. Garnish with remaining 2 Tbsp. of basil.
(Source: forksoverknives.com)

BIG RAY'S RHUBARD & STRAWBERRY RELISH
You can call this one chutney's cool cousin. It's brimming with warm spices like nutmeg, cloves and cinnamon, bringing a wonderful depth to roasted chicken, but it can also go sweet when drizzled over ice cream, which would be considered a dessert—whoops!
Ingredients
2 ¼  cups packed brown sugar
2 cups finely chopped rhubarb
2 cups chopped strawberries
½  cup white vinegar
½  tsp ground cinnamon
½  tsp ground allspice
¼  tsp ground cloves
¼  tsp ground nutmeg
Instructions
Stir brown sugar, rhubarb, strawberries, vinegar, and all the spices together in a saucepan over medium heat. Cook and stir until relish thickens, about 30 minutes. Cool, transfer to a sealable container, and store in refrigerator. Tip:  To thicken the relish more quickly, add ¼ tsp. of corn starch.
(Source: Allrecipes.com)