Garden2Table Recipe Corner: SUMMER HARVEST SOUP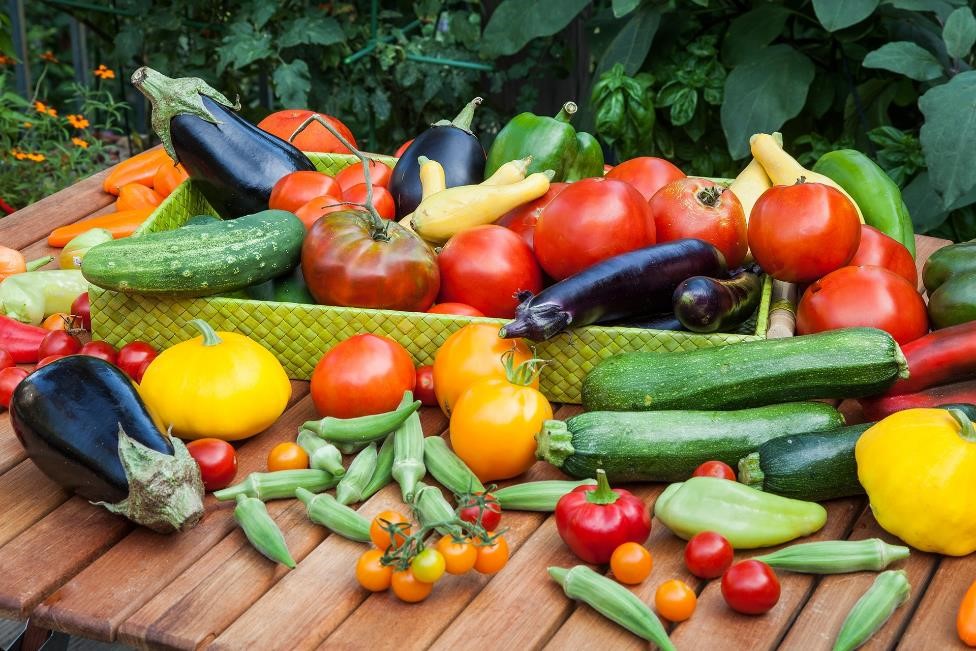 Basil, green beans, sweet corn, apples, summer squash, tomatoes, eggplant, and the ubiquitous green chile (New Mexico's state fruit) are examples of the late summer harvest season in New Mexico. Whether we're harvesting our home gardens, Seed-to-Need gardens, or shopping at our local grower's market or grocery store, this produce is readily available to cook, bake, grill, or pickle into nutritious foods.
September has also been the month where we have often run into our Master Gardener friends at the State Fair, Corrales Grower's Market, or Wagner Farms; have volunteered together at the Corrales and Placitas garden tours or the Corrales Harvest Festival; and have welcomed the new Master Gardener graduates during a ceremony of shared food and celebration of a year's worth of volunteer experiences. This September, however, will be different as we continue to protect ourselves and our loved ones COVID-19 by cancelling or limiting our public activities. As we do so, there's still a bounty of produce to harvest, buy, share, and prepare.
Green chile is still available this summer at the Corrales Growers Market, Wagner and Sichler Farms, the Fruit Basket, Sprouts and other grocery stores. And I have seen some people donning masks over the last couple of weekends waiting for their chile to be roasted.  However, if you prefer to pick up a bushel or bag to roast at home, there are many ways to do so. This website–https://www.hatch-green-chile.com/pages/how-to-roast-hatch-chile—provides instructions on how to roast chile using the oven, grill, stove, and even the microwave.  You can also find many of our favorite New Mexico chile recipes on this site as well. I especially appreciated reading about the nutritional value of green chile in an article published by Lovelace Hospital, since we eat so much of it throughout the year (https://lovelace.com/news/blog/new-mexico's-own-hatch-chile-–-healthy-hot-bite).
And for those with apple trees or who have been blessed by a bag of fresh apples from a co-worker, friend, or neighbor, consider making a batch of slow cooker apple butter that can be eaten as a condiment or used to bake quick breads or cakes (https://www.southernliving.com/recipes/slow-cooker-apple-butter). You can also substitute thinly sliced crisp apples for crackers and add a slice of sharp cheddar for a healthy appetizer or snack.  And if you're like me staring at a counter loaded with zucchini and have grown tired of the same zucchini bread recipe, try baking this moist vegan bread that uses avocado for the fat (https://www.forksoverknives.com/recipes/vegan-breakfast/zecret-zucchini-bread/); I promise you won't be disappointed.
For our Garden2Table September recipe, we selected Summer Harvest Soup, which can also be called Late Summer in a Pot.  This is the perfect soup to make after a trip to the growers' market or grocery store when you're tempted to buy every fresh vegetable in sight. It is easy to prepare and perfect for lunch or light dinner. The leftovers are even better the next day.
I would love to hear your feedback on our monthly recipes. They were selected based on readily available, seasonal produce, ease of preparation, and nutritional value. Please feel free to email me at cassandantonio@aol.com with your comments, questions, or suggestions.
Stay Safe and Healthy,
Cassandra D'Antonio
Chair, 2020 Garden2Table
Garden2Table Recipe:   SUMMER HARVEST SOUP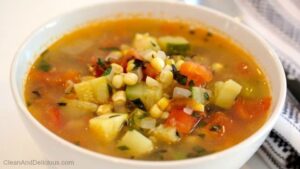 This flavorful gluten-free and nutritious vegetable soup provides a quick, easy meal after
harvesting your home garden or taking a trip to the growers' market.
Prep Time 5 mins | Ready in 30 mins | Serves 4-6
INGREDIENTS
1            Tbsp. extra virgin olive oil
1            medium onion, diced
2            cups of tomatoes, peeled (optional) and diced
2            medium zucchini, diced
2            cloves of garlic, minced
4            cups of chicken or vegetable broth
4            ears of sweet corn, kernels cut off the cob
½           cup of fresh basil or other fresh herbs, chopped
¼           cup of grated parmesan cheese (optional)
Salt & pepper
INSTRUCTIONS
Heat oil in a large pot over medium high heat. Add in chopped onion with a kiss of salt and sauté for 5 minutes or until onion is fragrant and translucent.
Stir in tomatoes, zucchini, and garlic with one more kiss of salt and some black pepper and cook for 5 minutes. Add in chicken broth and crank up the heat until it comes to a high simmer.
Reduce heat to a low simmer and add corn, basil, and parmesan cheese (optional). Cook for another 5 minutes or until the zucchini is fork tender and corn still has its fresh pop.
Serve and enjoy.
*Adapted from CleanandDelicious.com
Photo:  CleanandDelicious.com