Garden2Table Recipe Corner: The Savory Mushroom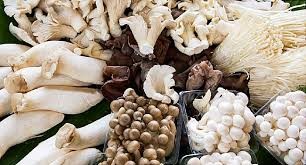 Cheers to 2021. Comfort food is in season—the foods we crave to prepare and eat during the winter months. This month's column is an ode to a star ingredient often found in many cold weather and comfort food recipes—the savory mushroom.
The Savory Season. The comfort foods we crave are often described as "savory" in food magazines, blogs, and cookbooks. But what does "savory" mean? One's savory taste experience is often a personal, subjective description. To some it means a food that is not sweet. To others it just means a flavorful, pleasant, and satisfying food. To the more discerning foodies, "savory" is used to describe foods that are meaty, earthy, woodsy, rich, and pungent. There are five basic food taste sensations: sweet, sour, bitter, salty, and savory or umami.  In Japanese, umami means "a pleasant savory taste." This taste comes from the amino acid glutamate, or glutamic acid, which is a common amino acid found in vegetable and animal proteins, which can also aid in the digestion of these proteins. Umami-rich foods include seafood, meats, aged cheeses, seaweeds, soy foods, tomatoes, kimchi, green tea, oysters, and mushrooms.
Meet Savory the Herb. "Savory" as a taste sensation was likely inspired by the herb of the same name. For 2000 years, people have used savory as a culinary herb to add flavor to their meals. How many of you have found yourself with a gifted herb box that included a bottle of savory and didn't know what to do with it? I did many, many years ago and just recently tossed it years after its expiration date, never having used it. Native to the Mediterranean region, this member of the mint family has two main varietals: winter and summer. Summer savory has a hot, peppery flavor, while winter savory is earthy and mild; both have notes of marjoram, thyme, and mint. Savory was an extremely popular herb and culinary staple throughout Europe until black pepper was introduced via the spice route from Asia. Savory was also known as the "herb of love" because Romans believed it was a natural aphrodisiac and used it to make love potions. Who knew?
Mushrooms are Soil's Soul Food. I love this description of mushrooms I found in an edition of Tastes of Italia. The mushrooms we eat are the fruiting body of the fungus; the fungus itself lies like tiny threads in the soil beneath. Soulful, savory, hearty, earthy, some rich and some delicate in flavor and texture, mushrooms can provide a foundation to many comfort food recipes and a nutritious boost of flavor to many others. They are also considered a superfood because they are rich in vitamins D and C and antioxidants, which promote a healthy immune system: What is the Nutritional Value of Mushrooms?. As a bonus, they are extremely low in calories and contain no cholesterol or gluten.
Mushroom Varieties. Below is a quick guide to the many varieties of the more flavorful fungi and their best culinary uses.
Chanterelle. Golden, fragrant, and firm, they have a nutty, delicate flavor. They need to be cooked and are especially good in sautés and stir fries and add incredible flavor to stews and casseroles.
Cremini. These baby portabellas have a distinctly earthy taste, with a delicate texture. They brown well when sautéed, due to their low moisture content. The stems are also quite edible.
Enoki. Firm, crunchy and sweet, they can be eaten raw or just heated through. They are perfect raw in sandwiches and salads and great in stir-fries when they should be added at the last minute.
Morel: Very aromatic, they have a rich nutty flavor, a chewy texture, and spongy structure that absorb sauces well. They are best used in omelets, added to gravies, and sautéed in butter and herbs.
Oyster: Silky with a lacelike texture, they have a delicate briny and smoky flavor. Great in raw salads and extremely tender when sautéed, they also make rich additions to soups, stews, and sauces.
Porcini: Resembling fairy tale toadstools, they are smooth with a woody, pungent flavor. Favored in French and Italian cooking, they're best in pasta sauces, lasagna, and risotto, or skewered and grilled.
Portobello. Large, meaty, and rich in flavor, they can be cooked whole or sliced. Scrape out gills, marinate in olive oil and balsamic vinegar, and sauté or grill. Their size makes them perfect substitutes for hamburgers.
Shitake. Smoky and full-bodied, they are tender, chewy, and mild when sautéed, and crispy and zesty when seared or roasted. Remove and reserve the too tough to eat stems and use to make mushroom stock.
Foraging for Mushrooms in New Mexico. Food and medical professionals will advise you not to forage for mushrooms to consume. Rather they advise you to shop for the many varieties readily available at your local grocery or specialty store that are guaranteed to be non-toxic. I am in total support of this advice. However, I was surprised to find that there are hundreds of varieties of mushrooms–many of them edible—that can be found in New Mexico, and that foraging for them is an extremely competitive sport among mycologists (those concerned with the study of fungi).
Edible mushrooms such as morels, porcini, oyster, and chanterelle can usually be found during monsoon season in New Mexico at elevations above 7,000 feet in areas around the Taos Ski Valley and the Santa Fe Ski Basin. It is important to know that there are some very toxic mushrooms in New Mexico as well, and to know the difference. While foraging, many New Mexico mycologists carry David Arora's book All that the Rain Promises and More: A Hip Pocket Guide to Western Mushrooms.  Another excellent list of New Mexico fungus, including pictures and location and dates found is published by the Mushroom Observer: Species List: Fungi of New Mexico. If you feel the mushroom foraging bug tugging at you, consider researching and joining the New Mexico Mycological Society (newmexicomyco.org), which met most months, pre-COVID, in Albuquerque and Santa Fe.
Mushroom Recipes. As a wonderful plant-based source of savory or umami flavor, mushrooms can be substituted for meat in a variety of recipes: Vegetarian Mushroom Recipes. Other favorites include Pulled Portobello BBQ Sandwiches and Mushroom and Walnut Meatloaf. Below are four mushroom-based recipes I highlighted because they are quick and easy – perfect for an evening meal: Roasted Mushroom Stock, Mushroom Soup, Polenta with Mushrooms, and Risotto with Mushrooms and Lemon. I hope you enjoy them as much as I do.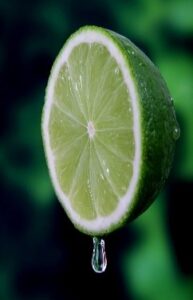 Remember the citrus. In North America, most citrus fruits ripen to their sweetest and juiciest during the winter, just when we need them most for their vitamin C. The acidity in citrus fruits can work as a tenderizer by breaking down fibers in foods that are cooked or marinated in it or add a pop of zesty tang to a wide variety of recipes. If you don't need a whole lemon, orange, or lime in your recipe, consider these suggestions: wrap the leftover fruit in plastic wrap and store in the refrigerator to use within a few days; keep fresh citrus juice in the refrigerator for a few days or pour it into ice cube trays and freeze; zest citrus rinds before throwing them out and save in the refrigerator to use within a week, or store in the freezer.
Wishing you a successful gardening and cooking season in 2021,
Cassandra D'Antonio SEMG 2012
Chair, Garden2Table Outreach Committee
Garden2Table Recipes for January
ROASTED MUSHROOM STOCK
Source: Saveur 2018 Vol. 3
Makes 12 cups | Cooking Time 2.5 Hours
Ingredients
1 ½         lb. of mixed mushrooms (preferably darker varieties such as cremini)
1            lb. of cleaned leeks
½            lb. each of diced onion, carrot & parsnip
1            fennel bulb, diced
3            Tbsp. grapeseed oil
1            Tbsp. dry vermouth
2            sprigs of marjoram
4            sprigs of parsley
12          peppercorns
2            bay leaves
*******************************************
Instructions
Preheat oven to 375°. In bowl, toss mushrooms, leeks, onion, carrot, parsnip & fennel with oil. Roast on large baking sheet for 1 hour, tossing occasionally. Transfer to a pot and add 12 cups of water, dry vermouth, herbs, peppercorns, and bay leaves. Simmer and skim occasionally for one hour. Let rest for 10 minutes, then ladle into containers through cheesecloth, discarding any solids and the cloudy liquid at the bottom of the pot. Keep in refrigerator for up to 2 weeks or freeze.
MUSHROOM SOUP
Source: Tastes of Italia: Winter 2021
Makes 4 servings | Cooking Time 1.5 Hours
Ingredients
3            Tbsp. olive oil
3            lb. of assorted mushrooms
½            cup chopped onion
2            cloves of minced garlic
3            cups chicken broth
½            cup milk
¼            cup heavy cream
Salt & pepper to taste
Parsley & splash of sherry (optional)
*******************************************
Instructions
Heat oil in large skillet over medium heat. Add mushrooms, onion & garlic, and sauté. Reserve about 1/8 cup of mushrooms for garnish. In a large pot, combine the mushroom mixture with the chicken broth. Bring to boil. Remove from heat and let cool slightly.  Pour the soup into a blender and puree to the consistency you desire. Return the soup to the pot. Over medium heat add the milk and cream. Combine well and heat until the soup has reached the desired thickness. Add a splash of sherry (optional). Pour into bowls and garnish with reserved mushrooms and chopped parsley.
Photo:  Saveur 2018: Hannah Whitaker
POLENTA WITH MUSHROOMS
Source: Tastes of Italia: Winter 2021
Makes 4 servings | Cooking Time 1 Hour
Ingredients
3 ½         cups polenta grain cornmeal
2            Tbsp. course sea salt
3            Tbsp. olive oil
1            lb. fresh mushrooms, sliced
Salt & pepper to taste
¼            cup fresh parsley, chopped
*******************************************
Instructions
Add salt to 2 ½ quarts of water and bring to boil.  Slowly whisk in cornmeal. Reduce heat to simmer and stir frequently for 30 minutes.  Heat olive oil in a large skillet over medium heat. Add the mushrooms and sauté.  Add salt and pepper to taste. Spoon the mushrooms over the polenta and garnish with parsley.
RISOTTO WITH MUSHROOMS & LEMON
Source: Tastes of Italia: Winter 2021
Makes 6 servings | Cooking Time 1 Hour
Ingredients
3            Tbsp. olive oil
1            cup onion, diced
2            cups Arborio rice (or short grain rice)
½            cup dry white wine
6            cups chicken broth
1            cup dried mushrooms
¼            cup fresh lemon juice
½            Parmesan cheese, grated
Salt & pepper to taste
Chopped fresh parsley for garnish
*******************************************
Instructions
Soak dried mushrooms in chicken broth for 20 minutes, drain and chop, reserving broth.
In large skillet combine oil, onion and rice and heat on medium until oil sizzles, stirring to coat rice. Add wine and cook on medium until wine evaporates. Add 1 cup of broth and the mushrooms, stirring well. Cook until the liquid almost evaporates. Add 1 cup of broth and repeat for 20 minutes until all the broth has been added and absorbed. Add salt, pepper, and lemon juice. Cook for 2 minutes stirring well. Remove from heat and sprinkle with Parmesan cheese and parsley before serving.