March 2022 – Garden to Table Recipe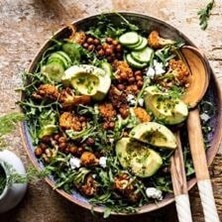 Roasted Cauliflower Salad with
Creamy Honey Mustard Vinaigrette
Cauliflower and chickpeas, roasted with olive oil, smoky chipotle, paprika, and garlic until lightly charred, crisp, and delicious. All tossed together with a simple honey mustard vinaigrette.
Ingredients
1 large head of cauliflower, cut into florets
1 can (14 ounce) chickpeas, drained
1/4 cup extra virgin olive oil
1 tablespoon chipotle chili powder
2 teaspoons smoked paprika
2 cloves garlic, minced or grated
1/2 teaspoon crushed red pepper flakes
kosher salt and black pepper
6 cups mixed greens
2 Persian cucumbers, sliced
2 tablespoons fresh chopped chives
1/4 cup fresh herbs, such as parsley, basil, and or dill, roughly chopped
4 ounces feta cheese, crumbled
1-2 avocados, sliced
Creamy Honey Mustard Vinaigrette
1/4 cup extra virgin olive oil
juice of 1 lemon
3 tablespoons honey
2 tablespoons Dijon mustard
2 tablespoons tahini
2 tablespoons apple cider vinegar
kosher salt
Instructions
Preheat oven to 425⁰ F.
On a large, rimmed baking sheet, combine the cauliflower, chickpeas, olive oil, chili powder, paprika, garlic, crushed red pepper flakes, and a pinch each of salt and pepper. Toss well to evenly coat. Transfer to the oven and roast for 20 minutes, or until tender and lightly charred.
Meanwhile, in a large salad bowl, combine the mixed greens, cucumbers, herbs, and chives.
To make the vinaigrette, combine all ingredients in a glass jar or measuring cup and shake (or whisk) until completely smooth. Taste and adjust the salt and pepper.
Toss the roasted cauliflower and chickpeas in with the salad. Add a little of the vinaigrette and toss to combine. Top the salad with avocado and feta cheese. Serve and enjoy! The salad keeps well for 3-4 days in the fridge. Add the vinaigrette just before serving.
Source Recipe/Photo: www.halfbakedharvest.com