Meg Buerkle Hunn, Advisory Council Chair: "Why Garden?"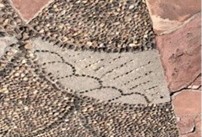 Why Garden?
Is it to assist Earth in her beautiful painting? Is it for a sense of beauty and hope in the world that sometimes seems devoid of these things? Is it to enjoy the fruits (literal) of your labor? Is it to experiment? Is it to witness the miracle of life and death and rebirth? Is it to pay the bills? Is it for a sense of peace and serenity that comes with your hands in the soil? Is it to right some wrong(s)? Is it to do your little part in healing the world? Is it because you're an environmentalist, by profession or by passion? Is it because it's a reciprocal relationship, you nurture your plants, and they nurture you? Is it because you like living things inside your home and having green gifts to give to your friends?
There are so many reasons for growing green things! And these reasons shift and change over the course of a lifetime, over the course of a garden, even over the course of a day.
Over the past month, I've visited, heard, and worked with many different gardeners and many different gardens. I discovered the Japanese Garden at the BioPark – and learned of its thoughtfulness and the precise ways of pruning evergreens. I witnessed the blessing of the acequia near the Wagner Orchards and visited many farms during Viva Corrales' first ever Farm Tour. I helped the Seed2Need team set up cucumber 'jungle gyms.' My child and her friends climbed the fence to reach not-quite-ripe cherries at the Storybook Garden. I learned that the brush piles in my garden can provide shelter and protection for smaller birds. The lavender fields at the SEMG field trip to Los Poblanos delighted my nose, as have my neighbors roses on the walk to the school bus stop. And, of course, I've weeded and watered and tended the growth on 'our' land.  
Sandoval Extension Master Gardeners and our community gardeners grow green for so many reasons! Why do you garden?
~ Meg