Vegetables for Decoration?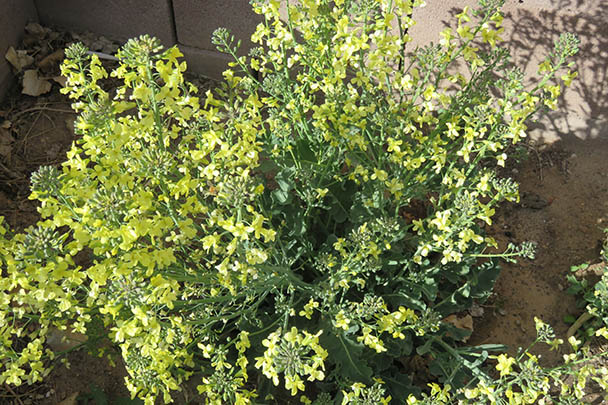 If your garden is space challenged, and you can't decide to use the available area for vegetables or flowers, you might consider using vegetables within the flower garden. For example, lettuce makes an attractive border in a flower garden. Nasturtiums are edible flowers. Other salad ingredients, such as spinach and arugula can also be integrated with flowers. I let a patch of arugula go to seed, and last fall, found arugula growing along the garden path. By late winter, it had grown to almost two feet tall. By mid-March, it had begun to bloom. It beat the daffodils and tulips to the bloom stage. It is growing in the vegetable garden, but next year I may try arugula as a border plant.
The added advantage of the arugula is that it is an excellent ingredient (green stuff) to mix with the fall leaves (brown stuff) in the compost pile.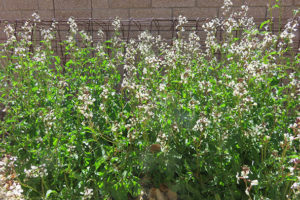 The picture shows arugula hiding my stored tomato cages. Broccoli will survive a mild winter, and we have been harvesting small stalks since February. I let some go to seed for next year's crop and to donate to the seed library. It makes an excellent border plant in a flower garden and provides color until the flowers get going. It's also attractive to pollinators and helps them to find your garden early. Note the honeybees.
By Dave Pojmann