Autumn sage, Cherry sage –Salvia greggii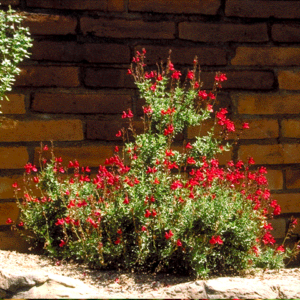 Southwest Plant of the Month: Autumn sage, Cherry sage –Salvia greggii
Plant Form: Shrub
Plant Size: 3′ x 2′
Plant Type: Semi-evergreen
Water Usage: Low
Sunlight: Sun, Partial Shade
Colors: Orange, Pink, Purple, Red, White, Yellow
Physical Description: Brilliant 1″ flowers slightly above glossy, bright green aromatic leaves on woody, densely foliaged branches. Flowers normally cherry red to pink but also white, yellow, orange, rose and purple.
Care and Maintenance: Pruning required to reinvigorate foliage and blooming. Spittle bugs. Odd colored flower varieties often not as heat and drought resistant as traditional reddish hues. Brittle stems break easily.
Gardener's notes: Chihuahuan desert native long used in landscaping worldwide. Many cultivars available including "Furman's Red" and "Sierra Linda". Excellent hummingbird attractor. Tolerates light filtered shade. Blooms spring to fall but best in autumn. Salvia microphylla is a similar red flowering species from the Sierra Madres of Mexico.
Southwest Plant of the Month material courtesy of NMSU ACES
Southwest Yard and Garden Plant Advisor