Book Review: A-Z Encyclopedia of Garden Plants
Book Review: The American Horticultural Society A-Z Encyclopedia of Garden Plants edited by Christopher Brickell & Judith Zuk
 Article & Photos by: Mike Stoy, SCMG
 Just after we moved into our third house in Seattle in 1996, while we were designing the garden, I came across this wonderful book edited by Christopher Brickell. This book has been my plant bible ever since. It is a massive book at 9 1/2" x 11 1/2″ and 2 ½ inches thick with nearly 1,100 pages. It covers more than 15,000 plants and is lavishly illustrated with more than 6,000 photographs and illustrations.
The book opens with a lot of useful information on botany and cultivation of plants along with a visual glossary and a text glossary in the rear. Next is a brief discussion of different types of plants grouped into categories like trees, ferns, annuals, etc.. This section describes the group then discusses how to use and grow them in the garden. The bulk of the book is the plant descriptions in the encyclopedia. The plants arranged alphabetically by their botanical names but there is an extensive index of common names in the back so you can find the plant even if you do not know the Latin name. Other synonyms and common names are also listed.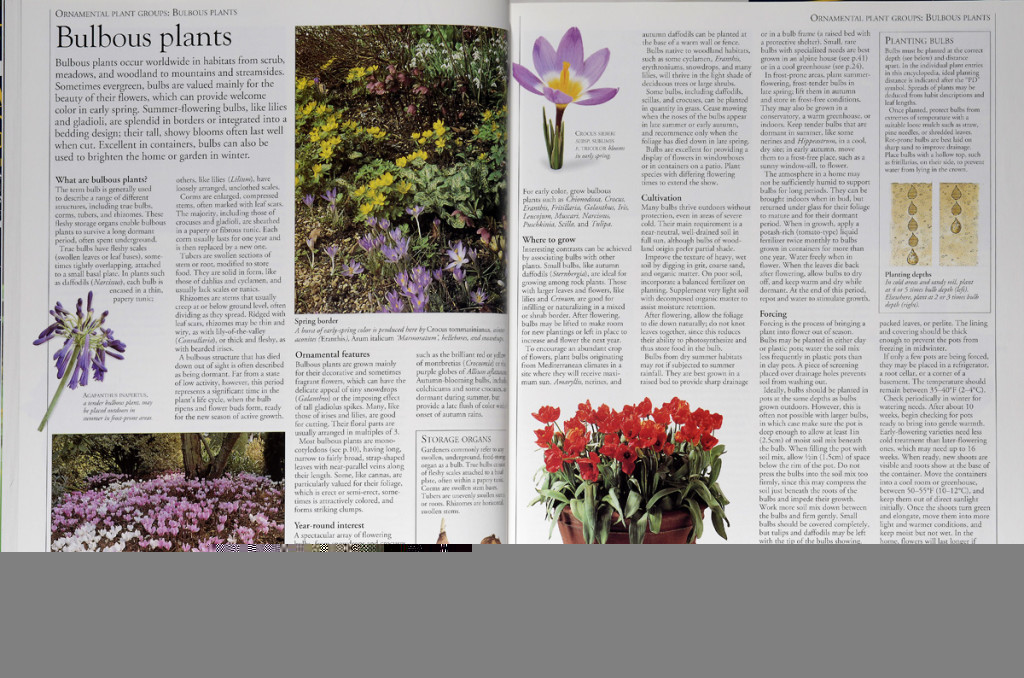 I have used this book extensively when I see or hear about a plant type I like and want to find out more information on the plant and other similar plants. For example if you saw a plant you liked and a friend told you it was a heather you would start in the index in back and find that there are two different genera of plants commonly called heather. The Latin name for one is Calluna which are the true heathers. After looking these up in the plant encyclopedia you could determine that the plant you saw was not a true heather so you go to the other genus which is Erica or the heaths. Under this listing you will find a good discussion of the genus covering hardiness, cultivation, propagation and pests and diseases. Next there are four pages of listings of 136 individual species and cultivars along with 44 photographs. For each of these the growth habit, leaf and flower color and anatomy, plant height and spread, geographical origin, and hardiness is listed. This will allow you to find several plants that would work for you in your garden.
My copy of the book is the 1997 edition which sold over 190,000 copies but there was a second edition published in 2004. Neither of them are still in print but they are both readily available from used book sellers online. If you are looking for a truly comprehensive garden plant book this is a great one to own.