Don't Be Too Quick to Prune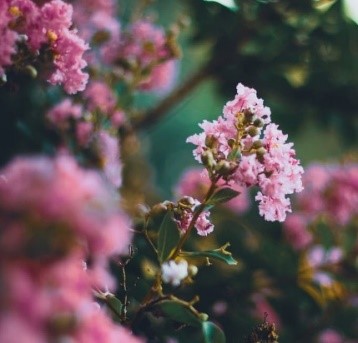 On a beautiful sunny day in March, it's hard to remember that we have had a bit more cold than usual and a few more days of snow on the ground than in the past few years. Per the weather forecasters it's been a decade since we've had winter temperatures so low. Anyone here in February 2011 remembers all too well the devastation the Groundhog Day storm left in our gardens.
Even though we've enjoyed sunshine and day temperatures in the mid-sixties recently it's still in winter. In Sandoval county the last frost can come as late as mid-April. The higher your elevation the later your frost free date will be. It's tempting to dash out on a sunny March weekend and tidy up the shrubs and grasses so they will be ready to show off their new growth.
To be on the safe side resist spring pruning until mid-March. The later the plant bloomed out, the later it can be pruned. This is when a gardening journal comes in handy. It's helpful to be able to review which shrubs had leaves and blossoms first, and when it happened. Often the "old wood" protects the tender heart of the plant from the cold. Some shrubs bloom on last year's wood – such as lilacs, flowering quince, viburnum and ninebark. Wait until the blooms are done, allow the plant a breather to set new wood for next year and then prune the spent blossoms, dead limbs, and to shape the shrub. Roses are good example of waiting to prune. NMSU has a helpful rose brochure with pictures to aid pruning. The guideline is prune after the last hard frost. Depending on where you live that could be as early as January or as late as May. In Sandoval county, depending on elevation, it's from late March to mid-April.
The recent ABQ Journal article by Tracey Fitzgibbon; Cold May Wreak Havoc on Plant Life, shared a similar caution. Tracey specifically warned about trimming back crepe myrtle and oleander. At a minimum, resist pulling them out, thinking they are dead from the freezing winter temperatures. More than once I've cut a crepe myrtle almost to the ground because it looked dead in early April. Fortunately, both times we had a mild spring and the shrub rebounded beautifully.