Garden2Table Recipe Corner: Rich Roasted Vegetable Stock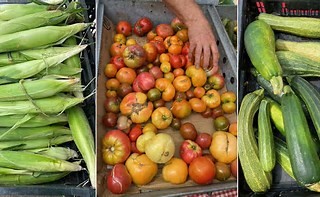 Photo:  
By Cassandra D'Antonio (SEMG 2012),
Chair of the Garden2Table Committee
September. "Here we are, in the belly of summer. Time to make the most of the season's bountiful produce before it's gone!" No, I didn't come up with that byline; Kate Workman of the Associated Press cleverly did. "Last Call for Tomatoes and Corn!" shouted a headline this week from a New York Times Cooking email. The end of August, when I am writing this column, seems like the traditional (if not official) end of summer. It is with these thoughts that this column begins, with a story of a long road trip to the Midwest, a trip to a fabulous farmer's market in Saugatuck, Michigan, and ends with the creation of a lot of no-recipe recipes to make good use of the produce that I overpurchased—a tendency I have, and do not regret.
As noted in the Wall Street Journal this week, airline travel picked up in August, with nearly two million passengers having passed through TSA checkpoints each day on average—more than twice the rate a year earlier. However, the increase in airline traffic posed numerous problems to several airlines. Lack of staff, including pilots and attendants, soon became insurmountable. These issues then posed irreconcilable issues for those of us whom had reservations for months, which included the airline notifying us of constant changes to departure and arrival times and even dates.
My husband and I had planned a 12-day trip back to southwest Michigan to stay at my grandmother's cottage nestled in the woods of Lake Michigan. I hadn't been back in 20 years, since my grandma had passed, and was anxious to see long-distant aunts, uncles, and cousins, and to find comfort again in the happy place of my childhood. After one too many reservation changes, we decided to hop in our vehicle and brave the 1,550-mile, 22-hour plus trip, because "hey we hadn't done this since our kids were little and it would be an exciting adventure." The trip there was pleasant enough. We decided on a slightly longer route to avoid the interstates and interchanges of the shorter route's major cities by taking I-40 to Little Rock, AK and then heading north on highways and state roads through the quaint farming towns of Missouri, Illinois, and Indiana. I can now truly say that I have seen enough corn and soybean fields to last a lifetime.
Once we arrived at our destination, slightly up the highway from St. Joseph, MI, we found ourselves in a heat wave and a cottage
with no air conditioning. The cottage had also much changed after two owners—though too often nothing is ever how we remember it—and the lake shore had narrowed and eroded due to rising tides and severe weather events over two decades. To escape the heat and humidity, we ventured up shore to Saugatuck for lunch and a visit to their biweekly farmers' market, where I went crazy, whacko nuts, buying everything in sight. Besides the ubiquitous corn, tomatoes, and summer squash, there were also mushrooms I had never seen before and berries of every kind. An evening visit to a cousin's mother-in-law's 30-acre farm also ended with bags and bags of produce she kindly snuck into the back of our vehicle.
(One take-away from the tour of her farm will be the orchard of nut trees of every kind, and the delicate hazelnuts still in their frilly, velvety soft skins before they later harden.)
The heat and humidity got to us after the fifth day, so we decided to cut our visit short, a decision helped by a trip to urgent care after the dozens of insect bites on my husband's ankles became inflamed and blistered, bites we found out were caused by sand fleas encountered at either the beach or golf course. We decided instead to make our way back home by stopping in for a two-day visit at my sister's house outside Cincinnati, OH. After pawning off some produce on an aunt before leaving Michigan, I called my sister to tell her to be prepared for the bags of fresh fruits, vegetables, mushrooms, and herbs I was bringing along. And this is where the story gets good—we spent the next two days creating no-recipe dishes, with some recipe dishes thrown in for good measure.
 Garden2Table "No Recipe" Recipes – September 2021
 Cheese Tortellini with Fresh Corn and Tomatoes. Blanch a large 1.5-pound container of five-cheese tortellini, drain, and let cool. Microwave two ears of corn still in their husks wrapped in wet paper towels for a few minutes. Remove the husks and silk, cut the kernels off the cob, and place on top of tortellini. I took a pint of red current tomatoes, which are the size of a large blueberry, rinsed and de-stemmed, and placed those on top, but any small tomato will do. We tossed in a pint of perlini (pearl-like balls of mozzarella) torn fresh mozzarella can also be used. Finely chop a variety of herbs (mint, oregano, parsley, basil) and sprinkle those on top.  Drizzle the dish with a good fruity olive oil and balsamic reduction and toss.  You could also add diced zucchini or other produce.
Sauteed Lion's Mane Mushrooms. This mushroom was new to me. Large, white, and shaggy, this mushroom resembles a lion's
mane as they grow. According to healthline.com, this mushroom can be enjoyed raw, cooked, dried, or steeped as a tea, and many describe its flavor as "seafood-like."  They also have many health benefits. I just chopped them up and sauteed them with a little butter, olive oil, and roasted garlic, and finished with a sprinkle of course sea salt and cracked pepper.
Two-Ingredient Watermelon Gelato. Cube watermelon and slice a couple of bananas and freeze. Add frozen watermelon and banana to food processor or blender, pulsing at first before pureeing until smooth. Add a little sweetener like agave, honey, coconut nectar or cassava syrup (purely optional). Serve immediately, or transfer to the freezer for an hour a more for a firmer set gelato.
Eggplant Rollatini and Pasta Alla Norma. Because I love eggplant, these are two dishes I make so often, I don't need a recipe. In case they aren't in your recipe repertoire, yet, I provided a link to a good recipe for both dishes, and you won't be disappointed. Eggplant rollatini is like manicotti, but instead of pasta, thin slices of roasted eggplant are rolled up with a ricotta filling and then topped with a tomato sauce (https://www.foodnetwork.com/recipes/giada-de-laurentiis/eggplant-rollatini-recipe2-1913538).
Pasta Alla Norma is a Sicilian pasta dish with pillows of fried or roasted eggplant, marinara, and lots of basil and ricotta salata. This link provides the roasted version, as well as the recipe's backstory: https://cookieandkate.com/pasta-alla-norma-recipe/.
Vegetable Stock. There are other dishes we threw together, but because I'm running out of space, the vegetables and herbs that were left started to look tired, so we threw them in a large stock pot with bay leaves, pepper corns, and garlic and slowly simmered with water for 6 hours, strained, ladled into plastic quart containers, and placed into freezer for later use.
I find that September is the best time to stock up on my freezer stock. Besides preparing vegetable stock, I also make pork bone stock to be later used to make a pot of pinto beans or posole, mushroom broth for maybe a risotto, and roasted acorn squash stock for soups. This month's featured recipe is a rich roasted vegetable stock I have used often over the years. Though there are lighter stocks, this recipe is perfect for those comfort dishes we enjoy through the cold winter months.
During the waning days in the belly of summer maybe take a road trip, visit a growers' market, and definitely take advantage of the last of the summer's harvest by doing what you creative gardeners and cooks traditionally do, and don't forget to stock up on your stock.
RICH ROASTED VEGETABLE STOCK
Source: The How Not to Diet Cookbook
Makes: 6 to 8 cups
Ingredients
| | | | | |
| --- | --- | --- | --- | --- |
| 1 | large yellow onion, cut into wedges |   | 3 | Tbsp. white miso paste |
| 1 | red bell pepper, seeded and cut into 2-inch pieces |   | 2 | Tbsp. tomato paste |
| 2 | celery ribs, cut into 2-inch pieces |   | 1 | bunch parsley, chopped |
| 3 | carrots, cut into 2-inch pieces |   | 1 | bay leaf |
| 2 | garlic cloves, coarsely chopped |   | 6 | whole peppercorns |
| 8 | ounces cremini mushrooms, quartered |   | 1 | strip kombu (dried sea vegetable; optional) |
| 8 | ounces tomatoes, quartered |   |   |   |
Instructions
Preheat oven to 425⁰F. Line a large roasting pan or rimmed baking pan with parchment paper or silicone mat. (You may need to use two pans.) Spread the vegetables evenly in the prepared pans.
Roast the vegetables in the oven, stirring occasionally, until lightly browned and slightly caramelized, about 60 minutes. Remove the pan from the oven and transfer roasted vegetables to a large stock pot. Stir in the miso paste and tomato paste. Add the parsley, bay leaf, peppercorns, kombu (if using), and 4 quarts of water.
Bring to a boil, then lower the heat to simmer. Cook, uncovered, until the liquid is reduced by about half. Remove from heat and allow to cool.
Pour the broth through a colander into a large bowl or pot. To store the broth, allow it to cool completely before portioning it into containers and tight-fitted lids. Refrigerate or freeze until needed.
Note: Instead of discarding the vegetable solids, you can compost them or, after removing the bay leaf, kombu, and peppercorns, puree the vegetables and then portion and freeze in small containers for later use to enrich soups or gravies.