Garden2Table Recipe Corner: SWEET POTATO HASH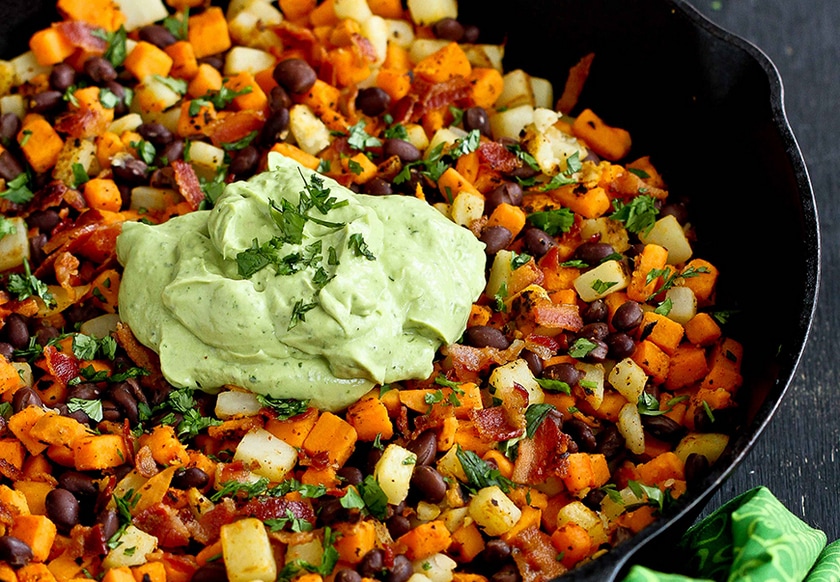 At the beginning of 2020, the Garden2Table Outreach Committee planned to pause our recipe demonstrations the middle of November, to recruit new members and hold training sessions in January/February 2021, and to resume our demonstrations in March 2021. Unfortunately, our outreach program was cancelled in March, due to COVID, before it began, and it is still unclear what 2021 will hold for our committee. (Note: Lynda Garvin sent me information about how the Valencia County Extension is holding virtual recipe demonstrations, that may be an option to explore.)
For those of you new to this column, the Garden2Table Committee features monthly recipes in this newsletter that we have tested and had planned to use for our demonstrations in senior centers throughout Sandoval County. Our objective is to demonstrate recipes that use readily available seasonal produce as the star ingredient(s) to prepare an easy and nutritious dish. Preparation time and required equipment are constraints that are also considered when selecting a recipe. If a recipe requires special equipment, e.g., a spiralizer, mandolin, food mill, etc., it's not considered. Another constraint includes selecting recipes that use ingredients found in an average pantry, because most of our audience members—senior citizens—won't likely have miso, toasted sesame oil, tamari, mirin, ghee, rice vinegar, etc. on hand.
Though our program was scheduled to break from November through March, and our immediate future is unknown, I will be continuing to submit a monthly column and recipe because I am having so much fun. So, with that said, I have beans and sweet potatoes on my mind.
Beans
This past spring, during the coronavirus lockdown, many of us were stocking our pantries with staples or looking for ways to make a meal out of items that had been hiding from sight for months, sometimes years. Beans were at the top of this list. As a source of protein, beans are a perfect substitute for meat and an important ingredient in a plant-based diet. Most of us know how to prepare a tasty pot of beans, but are they exciting? While skimming through the Wall Street Journal a couple of weekends ago, I came across a recipe titled A Better Way to Cook Beans: Tips from a Chef's Playbook. Skeptical at first, my initial thought was that it was another recipe addressing whether to pre-soak, when to add salt, never boil but simmer…Then I read, "The liquid the beans cook in is culinary gold." That caught my attention. Unfortunately, WSJ doesn't provide links to their recipes. I am going to describe the techniques for making a better, more exciting pot of beans. Believe me they are well worth the extra effort.
Coat the bottom of a hot Dutch oven or stock pot with a thin layer of neutral oil and lay a halved onion, garlic head and lemon, cut-sides down, allowing them to sit undisturbed until they are seared to a deep dark brown. Add drained beans that have been, yes, soaked for 8 to 10 hours and water, which will deglaze your pot, picking up all the delicious brown bits and lending a remarkable depth of flavor to the finished dish. Another item of bean wisdom is adding a glug of olive oil at both the beginning and end of cooking. As the pot simmers, the oil added at the start sits on top, keeping the beans submerged for even cooking. And the final important tip: add a piece of dried kombu, (edible sea kelp) which will round out the flavors and allow them to meld harmoniously. The braising liquid then becomes "culinary gold," which can be used to lend body to soups, braises, and sauces.
Sweet Potatoes
Sweet potatoes and November go together. Like beans, they store well in the pantry and are rich in fiber. They are also higher in vitamins,minerals, and antioxidants and lower in calories than their starchy spud cousins (6 Surprising Health Benefits of Sweet Potatoes).
If you're like me and subscribe to every food magazine and newsletter, you've probably been inundated with dozens of sweet potato recipes over the last few weeks. If not, may I recommend 37 Rich and Rustic Sweet Potato Recipes for a variety of savory and sweet treats, or for those vegans out there, Vegan Sweet Potato Recipes: Baked, Roasted, and Beyond, from my favorite plant-based recipe sites, and where I get a lot of our recipe ideas.
Initially, I was going to feature one of my favorite sweet potato recipes, but decided against it because it violates all the constraints I mentioned above for selecting a recipe to demonstrate. It is a little time consuming and calls for white miso, rice vinegar, pure maple syrup, and toasted sesame oil. I like to make it for a hearty meatless meal because it also includes lentils. I'll share it with you via link in case you want to give it a try (Glazed Sweet Potatoes With Lentils).
Instead, I am going to feature another favorite, Sweet Potato Hash. I love making this for breakfast and typically add a fried or poached egg and sometimes turkey sausage. And as an optional relish, consider making the avocado crema made from blended tofu, avocado, and lime zest. It is a recipe that I have adapted from numerous recipes, and one that I may have used for a demonstration.
Finally, for those Master Gardeners who enjoyed reading Lab Girl and The Overstory during those long quarantine months, consider picking up a copy of The Incredible Journey of Plants by Stefano Mancuso. According to one review "…naturalists and the culinary-inclined will cherish this collection of botanical vignettes." It also includes some lovely botanical watercolor drawings.
Wishing You a Happy & Healthy Thanksgiving,
Cassandra D'Antonio
Chair, Garden2Table Outreach Committee
SWEET POTATO HASH
Leaving the skin on the sweet potatoes is optional, it helps them stay intact and adds lots of color and fiber to this dish. Consider adding turkey sausage and topping with a fried or poached egg for a filling breakfast. 
Prep Time 15 mins | Ready in 30 mins | Serves 4
INGREDIENTS
1  pound sweet potatoes (about 2 medium), diced into ½-inch cube
1  cup of red, green, or yellow bell pepper, chopped
1  medium red or sweet onion, chopped
3  cloves of garlic, minced
1   cup of stemmed kale, thinly sliced
2   Tbsp. olive oil or avocado oil
1    tsp. of ground cumin, paprika, or turmeric
½   tsp. of crushed red pepper flakes
2    Tbsp. chopped fresh cilantro or parsley
6    ounces of extra-firm light silken tofu
1    medium avocado, halved, seeded, & peeled
½   tsp. lime zest
2    Tbsp. lime juice
Sea or kosher salt and cracked black pepper to taste
Sriracha sauce (optional)
INSTRUCTIONS
Combine diced sweet potatoes and one cup water in a microwave safe bowl. Microwave for 3 minutes, drain and dry.
Heat oil in a large skillet over medium high heat until shimmering. Add sweet potatoes, toss to coat in the oil, and spread in a single layer. Sauté for 6 minutes, stirring every couple of minutes, until edges start to brown.
Add onions and garlic and sauté for 3 minutes, stirring frequently.
Add bell pepper and sauté for 4 minutes more.
Stir in kale and cook until kale wilts.
Season with spices, crushed red pepper flakes, and salt and pepper.
Sprinkle with cilantro or parsley, and serve with avocado crema and, if desired, sriracha sauce.
For avocado crema, in a small food processor or blender combine tofu, avocado, and lime zest. Blend until smooth, gradually adding lime juice.