January 2022 – Garden to Table Recipe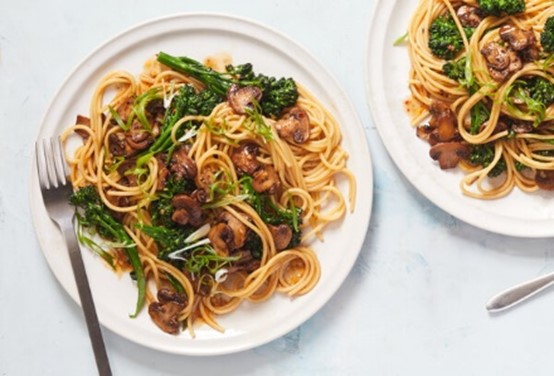 Veggie & Mushroom Noodle Stir-Fry
Though this stir-fry recipe shows its versatility by using whole-grain noodles, long-grained brown rice works well too. Here, a quick stir-fry is transformed into a flavorful, unconventional pasta sauce. The five-spice seasoning intensified the robust flavor of the mushrooms. This recipe also calls for chopped, crisp veggies, so use your nutritional needs and tastebuds to guide your choice(s). And don't skip the butter (or use vegan butter, if you prefer), as it provides a beautiful richness which brings the sauce and ingredients together.
Ingredients
For the Stir-Fry:
Kosher salt & black pepper
1             Lb. of whole-grain (or 2 cups of long-grain brown rice)
4             Tbsp. neutral oil, such as grapeseed
1             Lb. mushrooms (any small variety), trimmed & cut into ¼-inch slices
2             garlic cloves, grated or minced
3-4         cups fresh, crisp vegetables, washed & cut into 3-inch pieces
1 ¼         tsp. five-spice seasoning blend
3             Tbsp. unsalted butter
2             scallions, thinly sliced
For the Sauce:
2             Tbsp. oyster sauce (or vegan mushroom oyster sauce)
2             Tbsp. maple syrup or brown sugar
1             Tbsp. low sodium soy sauce
1             Tbsp. sesame oil
1             Tbsp. chile oil or chile crisp
Instructions
Bring a large pot of salted water to boil. Add pasta and cook according to package instructions, until al dente. Reserve 1 cup of pasta cooking water, then drain the pasta. (If using long-grained brown rice, prepare according to package instructions.)
Meanwhile, heat a large (12-inch) deep skillet over medium high heat. When hot, add 2 Tbsp. oil and the mushrooms. Cook for 7-8 minutes, giving it a stir every 2 minutes or so. The mushrooms will release a lot of liquid, but it will evaporate as it cooks. When the mushrooms start to turn golden, add the garlic, five-spice seasoning, and ½ tsp. each salt & black pepper, then cook for 1 minute. Transfer the mushrooms to a place and set aside.
While the mushrooms are cooking, make the sauce. In a small bowl, whisk the oyster sauce, maple syrup, soy sauce, sesame oil & chile oil with ¼ cup water until combined. Set aside.
Heat the same skillet back over medium-high heat. Add the remaining 2 Tbsp. soil and the veggies. Season with salt & pepper and cook for 4-5 minutes, tossing occasionally, until the veggies are tender but still crisp. Add the noodles (or rice) to the pan, along with the sauce & butter. Using tongs, toss to combine, then add the reserved pasta cooking water (if using), ¼ cup at a time to just loosen the sauce. When the butter has melted, add the mushrooms, and toss again. Remove from the heat and serve topped with scallions.
(Recipe & Photo Source: Hetty McKinnon for NYTimes Cooking)