June 2022 – Garden to Table Recipe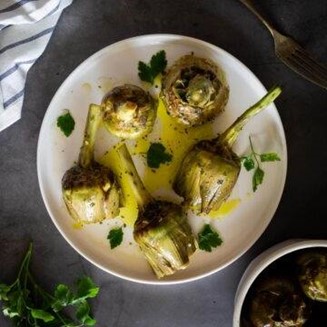 Roman-Style Artichokes (Carciofi alla Romana)
The simplicity of the ingredients and how they dance together in perfect tune in your palate makes you realize that yes! Less is more! For step-by-step instructions on how to prep your artichokes, visit the source of this recipe and photo
@ Roman-Style Artichokes (Carciofi alla Romana) | Our Plant-Based World (ourplantbasedworld.com).
INGREDIENTS  
4 artichokes 
1 cup mint
1 cup parsley
2 garlic cloves
½ cup extra virgin olive
1 lemon
1/2 cup water and white wine, each
1 tablespoon salt; adjust at the end
1 tablespoon black pepper
DIRECTIONS 
Start by cutting the lemon in half, filling a large bowl with water, and squeezing in half of the lemon.
Cut off the end of the stem and the tip of your artichoke.
With your hands, spread the artichoke to reveal its inner part.
Peel the stem and round off the end using a sharp knife. Taking off the center hair-like inside that can pinch. Use a small knife or a corer and cut out the central part to eliminate the inner white beard using a potato peeler or the top of a small spoon.
Soak the artichokesinside the lemon water.
Prepare the filling, chopping the mint and parsley coarsely. Mince the garlic and mix it in with the parsley and mint, along with a pinch of salt and pepper.
Roll the leaves and cut them with a knife without chopping them too much.
Drain the artichokes, shake them slightly to remove the excess water, and then stuff them with the herb mix, placing some mix in the core and also between the flower leaves.
Transfer the artichokes upside downinto a pan, keeping them fairly close together.
Pour in the olive oil followed by the water and wine so that the artichokes are covered up to the stems' top.
Cookfor about 25-30 minutes over low heat.
Serve warm or at room temperature as an appetizer with some focaccia or other Italian bread to soak up the olive oil and wine sauce.