New Beginnings project wins a 2023 David Gibby Search for Excellence Award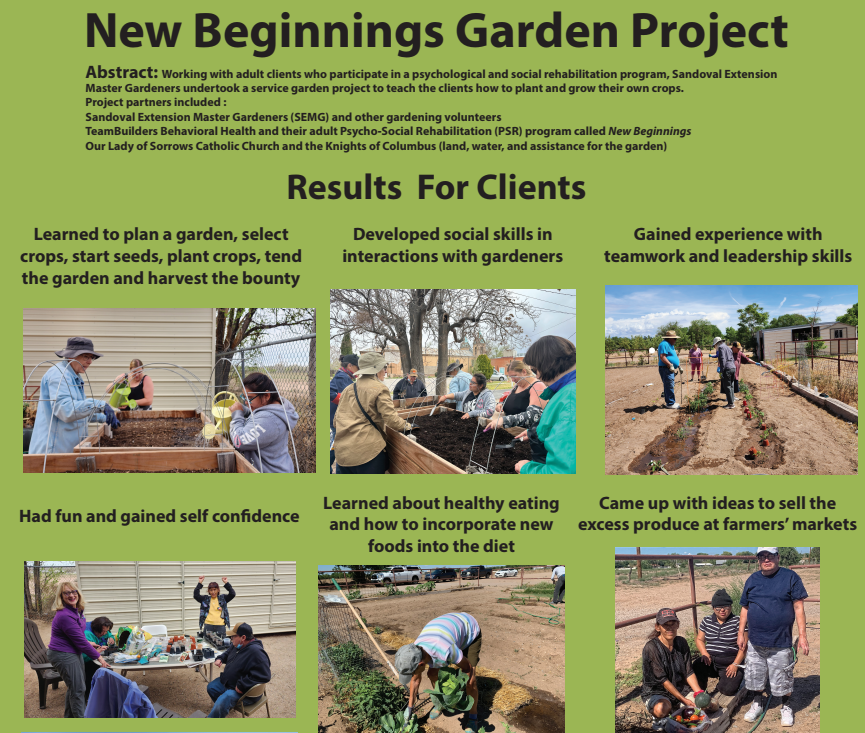 Chaired by Veteran Sandoval County Master Gardeners and Placitas residents Sandy Liakus and Sheila Conneen, the 'New Beginnings' Garden in Bernalillo has won a 2023 David Gibby Search for Excellence Award at the International Master Gardener conference held in Overland Park, Kansas June 18 -21, 2023. This volunteer garden project placed second in the Special Needs Audience category.
The New Beginnings Garden is a joint garden project initiated in 2011 between the Sandoval County Extension Master Gardeners and the Valle del Sol Adult PSR Program. The Master Gardener volunteers are currently working with the TeamBuilders Behavioral Health PSR program at the Our Lady of Sorrows Catholic Church grounds.. Other veteran Master Gardener volunteers who helped build and provide educational guidance in the garden include Lynette Fields, Jim Peters, Marylee Moen, and Tracy Bogard."
View the New Beginnings Garden Project poster that was presented at the 2023 International Master Gardener Conference.