Plant of the Month – Nasturtium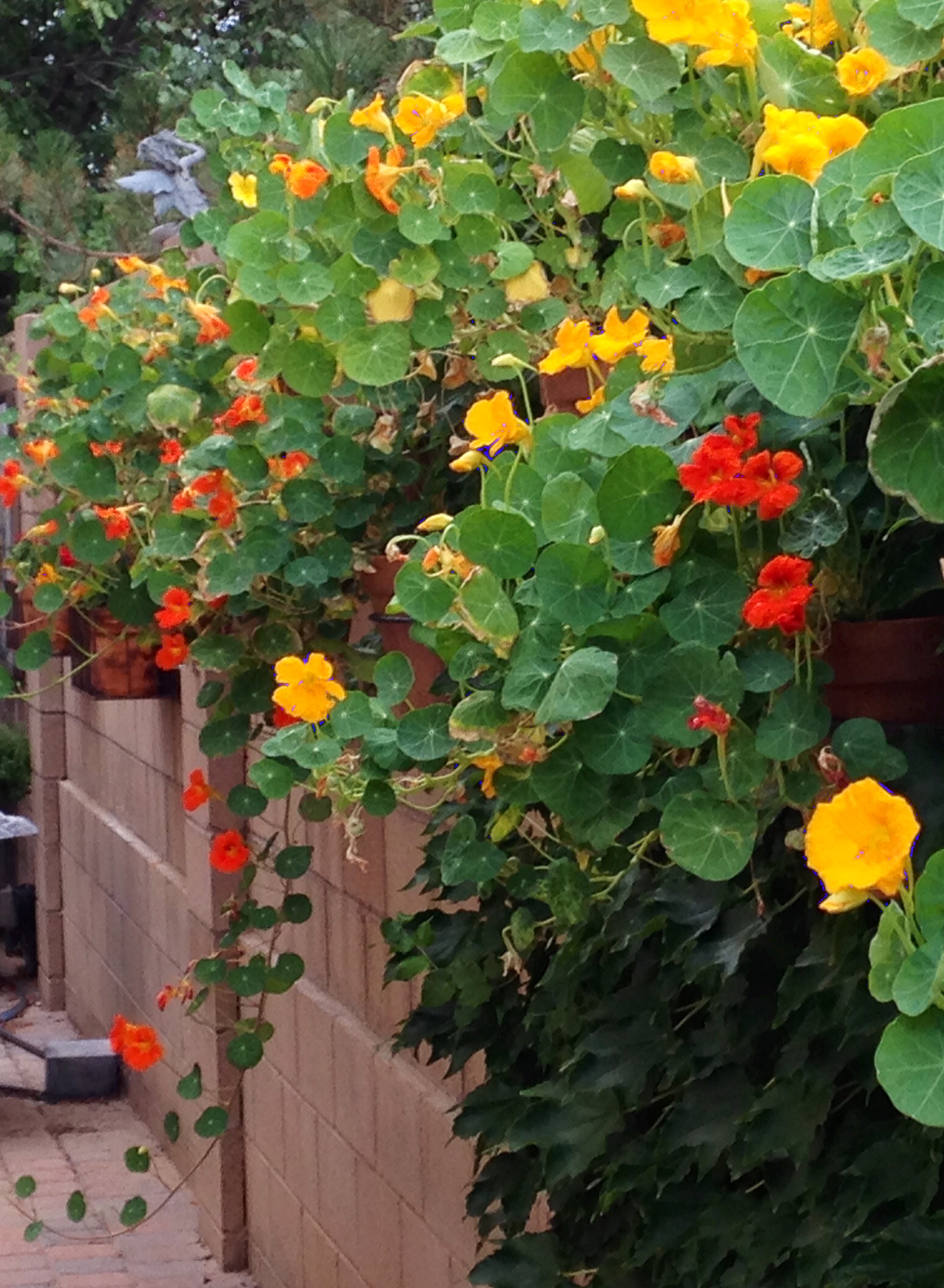 Article & Photos by Jan Koehler, SCMG
Scientific Name:
Tropaeolum
 sp.
Other Common Name: Nasturtium, garden nasturtium
Type: compact, semi- trailing, single flower climbing
Family: Tropaelacea
Native Range: Originally Peru and Mexico: introduced and native status in HI, VA, MA, NY, NH, PA
Zone: Annual, may reseed in our area
Height: Varies depending on species
Spread: Varies depending on species
Bloom Time: Spring through fall depending on planting time
Bloom Description: colorful, abundant, trumpet shaped, 1-1.5" in diameter, delicately scented
Sun: Full sun to part shade, but blooms most prolifically in full sun
Water: Medium
Maintenance: low
Suggested Use: Patio containers, hanging baskets, window boxes, flower bed edging, garden fences, trellises
Flower: Edible; garnish for cold soup, salad, or entrée
Leaf: Edible with slight peppery taste and high in Vitamin C; fresh green salad addition
Attracts: Hummingbirds
A versatile garden beauty
With the resurging interest for growing old-fashioned flowers from seed, the nasturtium has made a comeback in the home garden. These beautiful little wonders require minimal attention to thrive. It is a versatile plant with abundant colorful blooms which make an elegant garnish to many a summer meal. Their edible round flat leaves which contain Vitamin C impart a peppery flavor when added to a fresh green salad. If using nasturtium for culinary purposes, do not use pesticides. When nasturtium seeds are young and green, they, too, are also edible and have been likened to capers when pickled. They even offer their fare share of Vitamin C.
History
Tropaeolum, the scientific genus name for the approximately 50 nasturtium species, was first found growing in Mexico and Peru where it was used instead of cress to flavor foods. It was brought to Europe in the late 1600s and considered a symbol of conquest and victory in battle. Victorian women later used it in "tussie mussie" to ward off bad smells.  In the late 1700s, the famous Swedish botanist Carolus Linnaeus noted the similarity in appearance between the plant's brilliant flowers and the gold (and often blood-stained) helmets, called tropaeam worn by ancient Roman warriors. Hence the Latin name Tropaeolum.
Cultivar variations
Nasturtiums come in three types: dwarf, semi-trailing, and single flower climbing; offering flowers in a range of colors from vanilla white to fiery red and even multi-colored with some having variegated leaves. Dwarf types are bushy and compact and include the cultivars 'Alaska', 'Empress of India,' 'Strawberries and Cream,' and 'Whirlybird.' These dwarf varieties make great edging plants. Semi-trailing types reach a length of two to three feet, making them ideal for cascading over the edges of hanging baskets. The Gleam series is a good choice here, having been named an All-America Selections winner in 1935.  The single flowering climbing types like 'Jewel of Africa' send out six to eight foot runners that climb trellises like vines and are lovely on a back fence of a garden or in pots with trellises.  The Monet gardens in Giverny, France, have a long, arched arbor walkway covered with these nasturtium vines which even threaten to cover the ground walking space by early August.  Colors of this type are bright and range from yellow and orange to rose and crimson. The vines are strong and flowers fragrant.
Culture
Nasturtium is one of the easiest flowers to grow from seed, and is, in fact, often recommended as a good starter flower for beginning horticulturists. Nasturtium grows best in semi-neglected areas. The most prolific flowering will happen in full sun, but they will tolerate partial shade. Seeds can be sown directly in the garden beginning in May after the threat of frost has passed or started indoors to get a good head start on the season. However, as nasturtiums do not fare well when transplanted, use peat pots and plant these directly in the soil. Nasturtiums are not choosy about their soil, but, given a choice, do prefer a light, well drained, sandy soil which makes them conducive to cultivation in our desert area. Water the plants regularly throughout the growing season, but be careful not to over-water as they do not like their feet too wet.  Don't spoil them with rich, fertile soil and fertilizers as this will only result in lush foliage and few blooms. Cutting off the faded or dead flowers will prolong the blooming. If nasturtium are grown in containers, they may need to be trimmed back occasionally over the growing season.
The large seeds of nasturtiums are easily held by tiny fingers, making them a good flower for children to help plant. In addition, the seeds germinate quickly and plants grow rapidly, so children can see the results of their nurturing quickly. To promote faster sprouting, soak the large hard seeds in some warm water overnight and then place directly in the garden or pots where you want to grow them.  Only a small space is needed to provide a child with his or her own garden. Even a single foot square container can become a spring-to-fall garden. Plant the seeds about half an inch deep and 10 to 12 inches apart. Plants should appear in 7 to 10 days. Sowing nasturtium with fast growing seeds like lettuce and radishes in the early spring guarantees the nasturtiums will be ready to bloom by the time the lettuce and radishes are harvested. Once they are established, nasturtiums will continue to spread and bloom until the first frost, with very little work or water.
Nasturtium chick-pea-size seeds can be saved and planted in the spring. Collect the seeds that have fallen from the vine as these have matured sufficiently. Collect them, brush off the soil, dry them, and store them in a paper envelope in a cool and dark place.
Nasturtium recipes
Aside from beautifying your garden, the cut flowers of many varieties can be used in fresh floral arrangements. They are also a great addition in culinary pursuits. The following recipes are just a sample of what can be done in the kitchen with these garden beauties.  Get creative and try other culinary concepts.  Plates adorned with nasturtium always bring a smile to a guests face. DO NOT use pesticides if you intend to eat the flowers/leaves/young green seeds.
Stuffed Nasturtium Flowers
Mix 8 ounces softened cream cheese with 2 Tablespoons finely minced chives or other herbs of your choice. Stuff the mixture into nasturtium flowers and place on a tray that has been lined with nasturtium leaves. Serve at room temperature.
Nasturtium Vinegar
1 cup nasturtium leaves, flowers, and buds
1 pint champagne or white wine vinegar
Place the ingredients in a clean clear glass jar or bottle. Tightly seal. Let sit for at least 3 weeks before using. Place a new nasturtium in the finished bottle for decoration, but you should make sure the vinegar always covers the flowers or they will mold. Makes 1 pint vinegar to use in salads, sauces and flavoring in other dishes.
Nasturtium Lemon Butter
This lovely butter has a mild lemon/pepper flavor and a colorful appearance. It is wonderful on fish, chicken and vegetables. This is also great on those small party breads, pumpernickel especially.
1/2 cup unsalted butter softened
1-2 teaspoons grated lemon peel (according to taste)
1 tablespoon lemon juice
3 tablespoons finely chopped nasturtium blossoms
Mix all of the ingredients well until smooth and well blended. Refrigerate or freeze until ready to serve. Makes 3/4 cup flavored butter.
Pickled Nasturtium Seeds
Use green nasturtium seeds, and in picking retain a short length of stem on each. Lay the seeds in cold salted water for two days (two tablespoons salt to one quart water), then place them in cold water for another day. Drain well and place the seeds in a glass jar, cover with vinegar heated to the boiling point, and close the jar tightly. In a few days the seeds will be ready to use. They are an excellent substitute for capers.
For Additional Information Click the Links Below:
http://plants.usda.gov/core/profile?symbol=TROPA
http://www.uvm.edu/pss/ppp/articles/nasturtium.html
http://www.herbalgardens.com/archives/articles-archive/nasturtiums.html
http://www.almanac.com/plant/nasturtium
http://www.motherearthnews.com/real-food/nasturtium-zmaz82mjzglo.aspx