SEMG Salutes Cathryne Richards for Life Member Achievement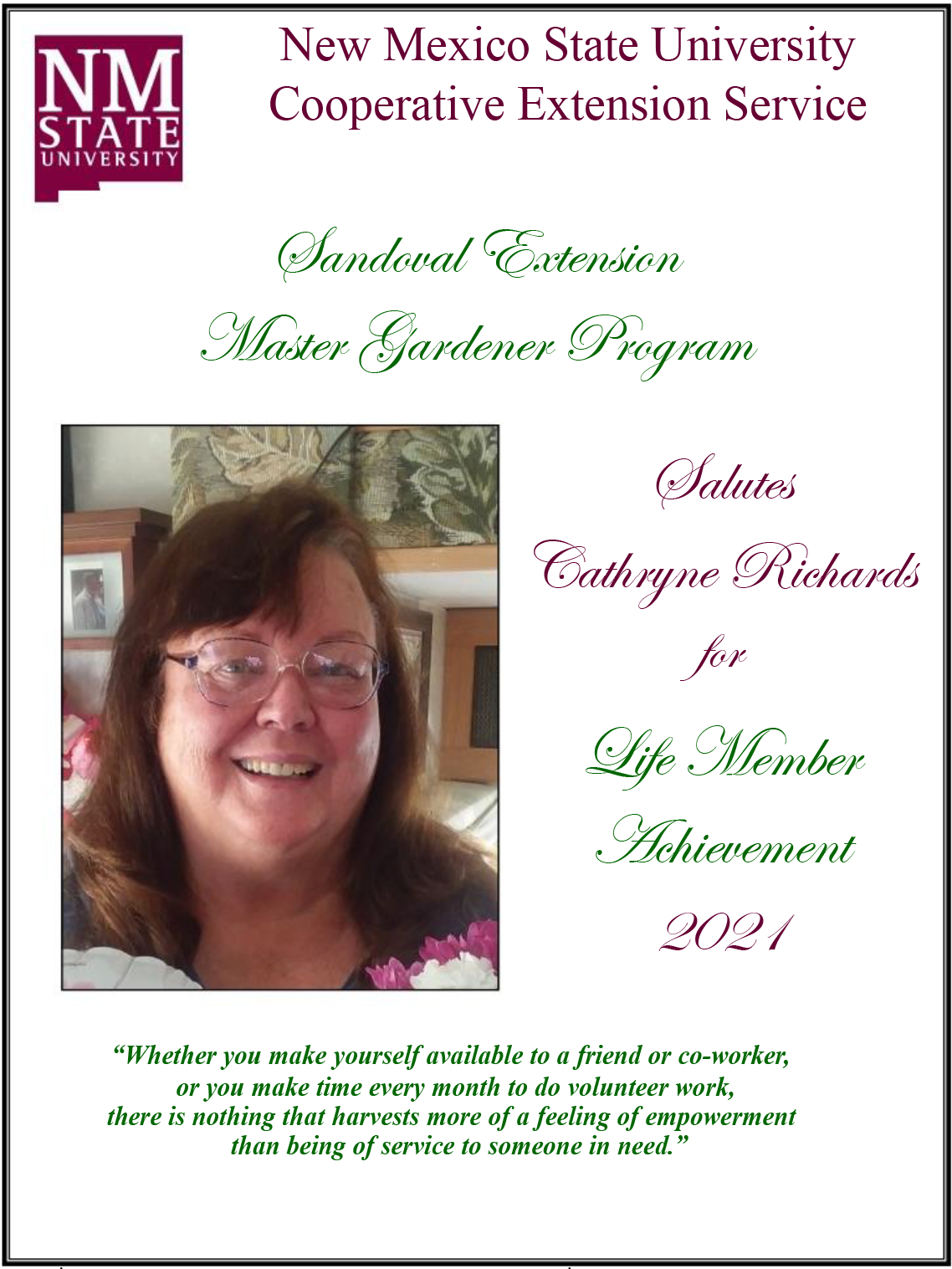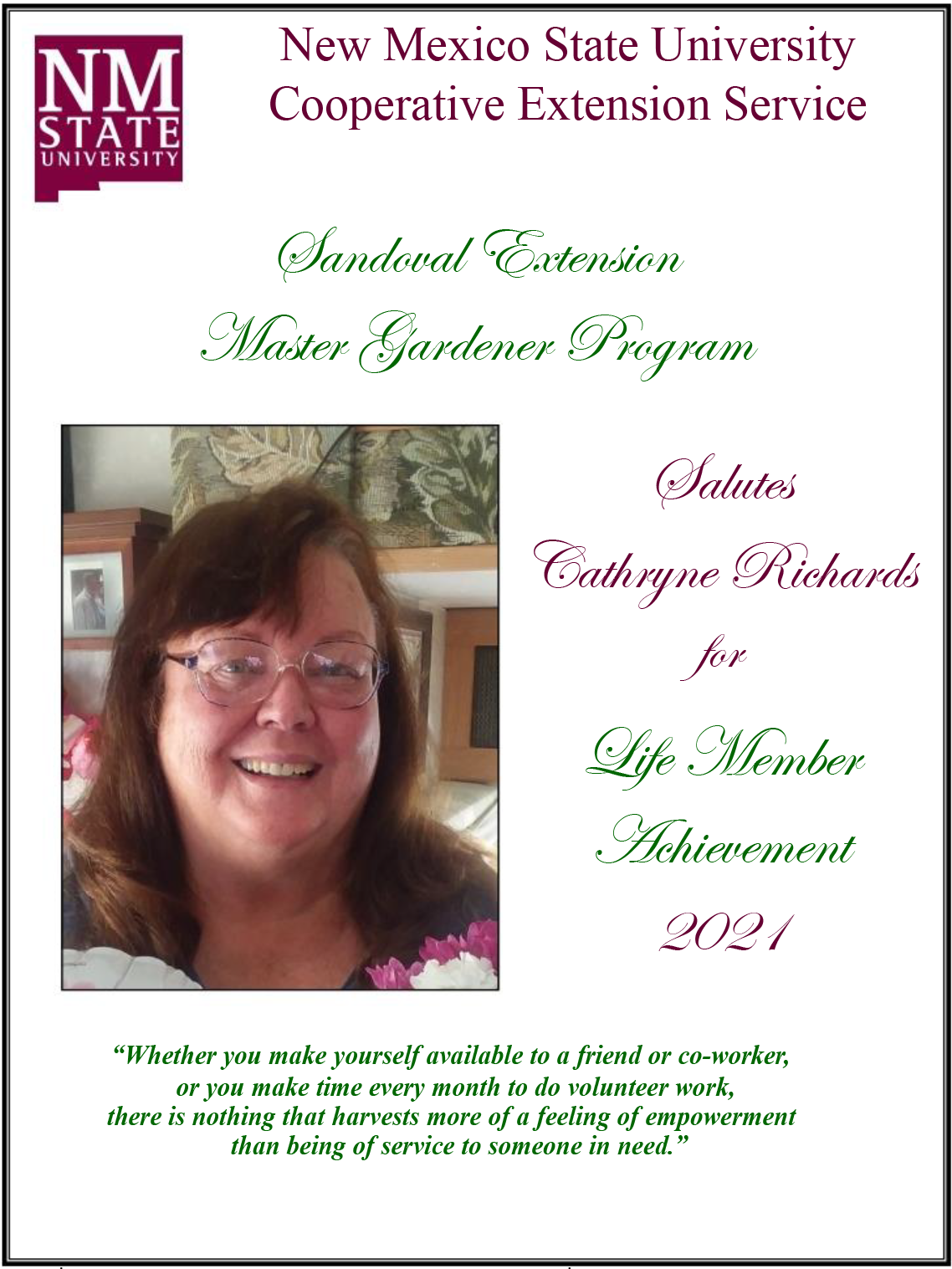 What being a Lifetime Master Gardener means to me!
By Cathryne Richards
When I moved here in 2005 from Utah, I left behind a ¼ acre Property with mature fruit trees, a great "salsa garden" and secondary water to keep it all growing. We also had grass – imagine that!
When we arrived in New Mexico we found the perfect house for us in Placitas on a rocky steep slope that was 1 ¾ acres with a producing well and 4 bedroom, 2 bath house. The slope was so steep that is run right into the arroyo that fed Las Huertas Creek. I knew that gardening here was NOT going to be easy!
So the first thing I did was find out how to become a Master Gardener in Sandoval County. I joined my class of 20 + in Rio Rancho in January, 2006. That year I also did some research and found the Xeriscape Conference in February which is an International Conference still going strong today. I also attended the Organic Farming Conference and several classes in Albuquerque at the Garden Center.
Our County agent Rudy Benavidez, came to our property and evaluated the Pinon trees that survived the beetle kill, and pointed out some of the other native plants on the property and where our septic drain field was located.After that it was a matter of bringing in TONS of organic material, building retaining walls and starting our courtyard project.
I served as "Historian" for the Sandoval County Master Gardeners and produced photographic evidence of our move into the "Casita" at the County Building, and the life and times of Master Gardeners. I have worked closely with Elizabeth Hackett in developing materials and handouts for our classes.
In 2008, Rudy introduced me to Darlene Chandler Bassett who presented "Landscaping" as a "Gardening with the Masters" program. Together we put our heads together and came up with a class that we saw as missing from the Master Gardener Training. This became HOMEscape Solutions. We recruited several veteran Master Gardeners and presented the first class in 2009 at the Placitas Community Center.
In the past 12 years more than 150 people, Interns, Master Gardeners and Home Owners have benefited from the class. As a facilitator of HOMEscape Solutions Design Workshop, our Team has applied for the International Master Gardener "Search for Excellence" award multiple times. Because of the Covid-19 Pandemic the classes scheduled for 2020 and 2021 were been postponed until next year.
I continued to volunteer at the Xeriscape Conference for 7 years and then the format changed to the "Land and Water Summit", which attended via Zoom this year. I have had the opportunity to meet and learn from some of the leaders in water resource management, landscape design and management of native plant for both enjoyment and medicinal qualities! I've had the opportunity to meet several best-selling authors and incorporated their practices into my own philosophy of water-harvesting, using native plants, being a sustainable property and continuing to improve HOMEscape Solutions Design Workshop based on these principles. I am passionate about this program as it continues to evolve.
After 15 year of volunteer service, I am so pleased to become a Lifetime Master Gardener. This means that I now can focus on what I have been passionate about for the last 12 years and continue to learn about the resources available here in New Mexico and pass information on to those who choose to take the class. I will never stop learning, every time I teach something, I learn something!
I have the opportunity to travel more now and make it a point to visit Botanical Gardens, art installations in gardens and adapt new ways of gardening to fit the lifestyle. It means that my Master Gardening Training and volunteer time gave me a solid foundation to be a better stew ard of the land I live on and I can continue to share my knowledge in a meaningful way.
In addition to being a Lifetime Master Gardener, I still continue to teach Kiln-Formed Glass, a variety of craft classes; and maintain my Board Position on Jardineros de Placitas. I am passionate about working in my studio and have had a considerable amount of time during the pandemic lockdown to be creative.
Cathryne Richards – "Master Gardener and Innovator"
By Steve Lucero, – County Program Director
For fifteen years master gardener Cathryne Richards has been one of the most enthusiastic volunteers of the Sandoval County Master Gardener program. Always equipped with a smile, she shared many stories of gardening, the on goings in Placitas, and her traveling experiences with husband Tom.
In 2006 when I met Cathryne, our offices were small, located down the street next to Town Hall. We had a designated room where master gardeners would ongregate. While manning the hotline or meeting with clients, or working on MG historian projects, quite often Cathryne would bring another talent, jewelry-making from her unique glass that she fired through a kiln.
Along with fellow master gardener Darlene Bassett, the two founded the nationally recognized HOMEscape Solutions program designed for the homeowner that focus' on xeriscape landscapes. HOMEscape Solutions became popular quickly, evidenced by long wait lists for the series. It is free, saving area homeowners thousands of professional fees for landscape design.
HOMEscape Solutions has been a vital resource to new and current area homeowners. Widely recognized, it crossed to other counties and on to the national platform. We are honored to have this innovative team share their knowledge and expertise in our drought stricken state. Rave reviews continue to pour in from those who participated in the program. We are proud of the many inventive programs that master gardeners provide.
I would like to take this opportunity on behalf of New Mexico State University and the Sandoval County Extension Service, to express our thanks and appreciation for a service well done. Your willingness to serve as a volunteer has strengthened the mission of the Cooperative Extension by serving the community.
For all of your efforts, please accept our sincere thanks and appreciation you so well deserve as a Life Member of the Sandoval County Master Gardeners.