Administration Office Indoor Plant Watering Project 2023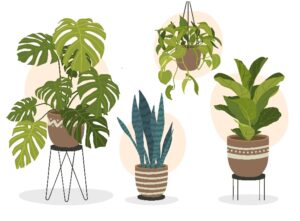 Do you have a passion for indoor plants? Or are you looking to have the opportunity to work indoors? Well, this project is for you!
You will receive 2 hours for each watering slot which will count towards Community Outreach. Sign up will be through the end of the year.
VOLUNTEERING INCLUDES: You will have the use of a wheeled cart with a watering can and some basic tools. Please remove all dead leaves and keep an eye on the health of the plants. Please check the soil with your finger to see if it is damp before watering (as sometimes staff inside the building will water, without permission). If the plant is damp, please skip watering it. If the plant is dry, water until the topsoil is fairly damp without too much water sitting in the holding tray below it. We do not want plants to sit in trays of water, as this can cause rot and brings bugs. On some larger Ficus trees you cannot see inside the bottom tray. Please make sure these trees are fully saturated and not leaking out onto the ground during your shift.
The building is open from 8:00am to 5:00pm. If you cannot fulfill your watering shift on the exact date you signed up for, please call your 'Relief Waterer' to come water for you. You should not be watering before or after the date you signed up for. These plants are meant to thrive if watered every 10 days. Try to give the 'Relief Waterer' some noticed that you need them to take your shift. If any troubles at all, please contact Michelle Wittie immediately and she will be happy to take care of it.
DIRECTIONS TO LOCATION: 1500 Idalia Rd Bernalillo. It is the 3 story building. Take Elevator up to the 2nd floor. Exit the elevator and turn left. You will see the offices of Community Services to your immediate left. Enter, and you will see a door to the solarium to your right. The watering cart is in there directly on your right, close to the windows. Remember to log your date and time in the binder on the cart.
Training:  If you need some help with houseplants or need some training before or during your shift or you have any questions about the plants please contact Michelle Wittie and she can meet you and talk about anything you have concerns about (505) 804-8148.
These houseplants video links may also be helpful https://www.youtube.com/watch?v=8PoUne7rkn4
or https://aces.nmsu.edu/desertblooms/documents/houseplants-b.pdf
or Growing Indoor Plants with Success | UGA Cooperative Extension
Sign up below...