Southwest Plant of the Month – Moss Verbena – Glandularia pulchella (Verbena tenuisecta)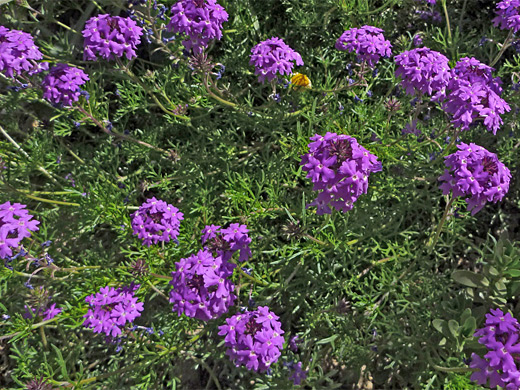 General Information
| | | | |
| --- | --- | --- | --- |
| Plant Form | Ground Cover | Plant Size | 1′ x 4′ |
| Plant Type | Deciduous | Water Usage | Medium |
| Sunlight | Sun | Colors | Purple |
Physical Description:  Finely divided, dark green foliage on thin, spreading stems that can root at nodes to form a thick, ground-hugging mat. Bright purple to lavender flower clusters are produced profusely in successive waves all spring to fall.
Care and Maintenance:  May go dormant in high heat. Mow in winter. Needs limited but regular supplemental irrigation to remain green and to flower well. Overwatering decreases flowering. May winter-kill but reseeds.
Gardener's notes  Well adapted South American perennial that provides a soft, lacey, colorful ground cover in sunny locations. Mixes well with grasses.
Information from:  desertblooms.nmsu.edu/