The Violaceae Family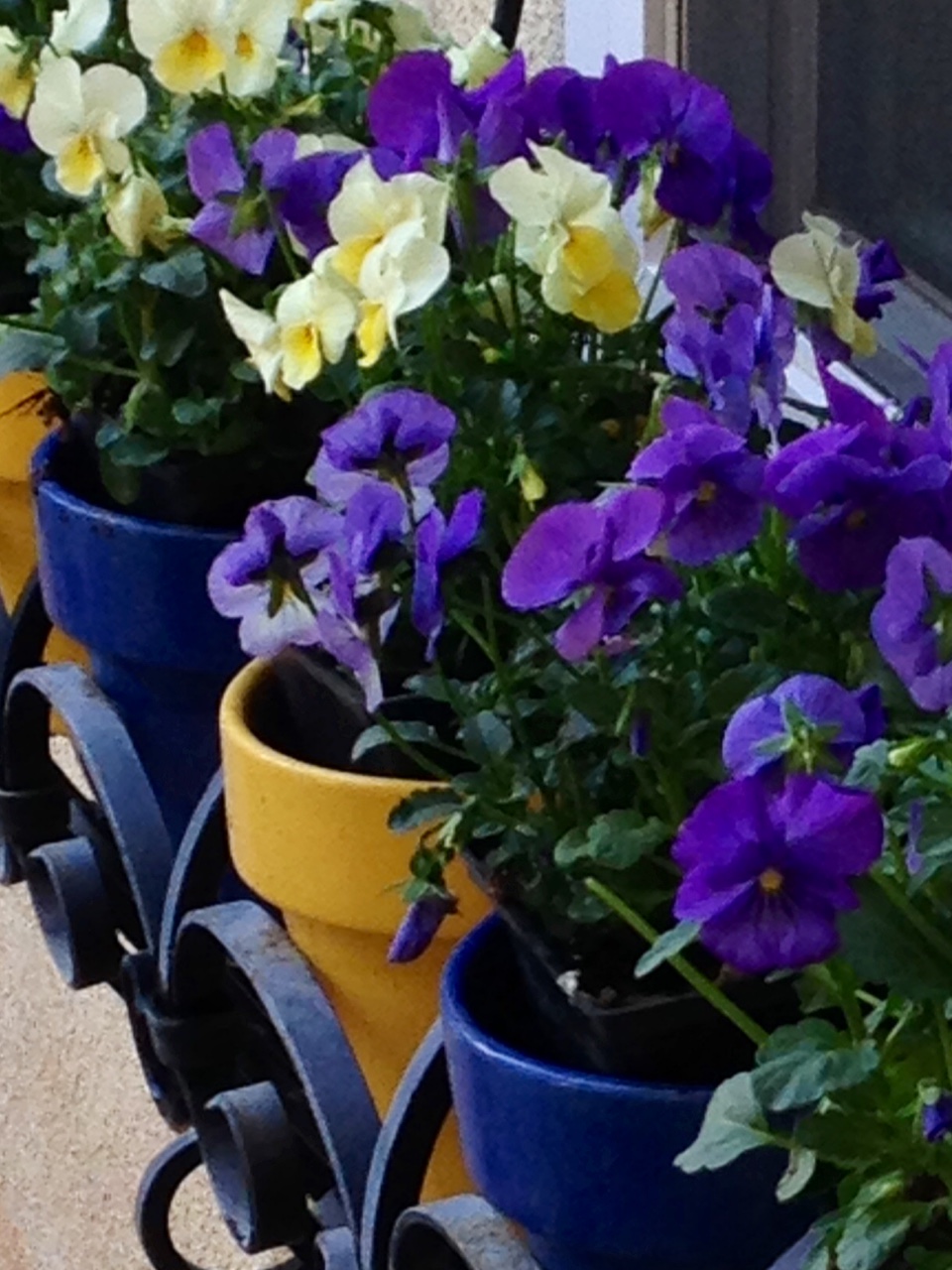 By Jan Koehler, SCMG Intern
photo by J. Koehler
Competing with their pansy cousins as superstars of the cool season garden, violas are easy to grow, giving that early spring garden a much needed color lift. Newer viola varieties offer larger flower size, along with excellent heat resistance and cold tolerance, for exceptional garden performance. The flower color palette is unsurpassed, offering beautiful pastels and sparkling jewel tones. Some flowers have two, even three colors. Many have unique patterns and markings. The fresh green foliage provides a beautiful backdrop that makes the multitude of delicate flowers breathtaking.
Violas have gained popularity. In the New Mexico climates, violas grace the garden during the spring and early summer until they succumb to the heat of our summers. They reappear as bedding plants in local nurseries for the fall garden, providing continuous bloom often through a mild winter.
History
Violas have been celebrated through-out history, not only in gardening, but also in literature, medicine, and art. Most of the historical references probably refer to the Sweet Violet (Viola odorata), one of the first flowers to be grown commercially. Violas came from Europe, where they grew wild through-out the region, and were familiar as early as the 4th century BC to people living in Greece, who cultivated the plants for herbal medicinal use. Reference to the modern day viola can be found dating back to 1633.
When V. tricolor was brought to North America in the 18th century, the plant became known as Johnny-jump-up. It was grown by Thomas Jefferson who noted that he planted it at his birth-place, Shadwell, on April 1, 1767.
Nomenclature
Viola is a large genus of about 500 species that includes many popular wildflowers and garden flowers such as pansies, sweet violets, and Johnny-jump-ups. They represent a wide range of growth habits and include annuals, biennials, and deciduous perennials. Most garden violas are grown as annuals or short-lived perennials.
The ancestor of to-day's violas is the Sweet Violet, V. odorata. A true perennial, Sweet Violet is known for its compact plant growth and small, sweetly fragrant, deep violet flowers.
Garden violas are represented by two species. One species is Viola tricolor, Johnny-jump-up. This perennial is native to Europe and Asia, grows about 6-10 inches high, and produces small, nickel-sized flowers in purple, yellow, and white with interesting marks or whiskers. Johnny-jump-ups are often grown as an annual.
The other is Viola cornuta, sometimes called tufted pansies or horned violets. Native to Spain and the Pyrenees, V. cornuta grows throughout temperate regions of the world. The green leaves are spreading, perennial, evergreen rosettes. Plants are compact, up to 8-10 inches tall, with 1 1/2-inch diameter flowers patterned with rays or lines in a deeper or contrasting color. Flowers may have a light scent.
Closely related is the garden pansy, Viola wittrockiana, this short-lived perennial has larger flowers than V. tricolor or V. cornuta. Pansies reach a height of about 8 inches tall with single colored or face patterned flowers that measure 2-3 inches across, though some hybrids have even larger flowers. Pansies are generally grown as annuals.
There are also wild varieties of Violaceae. There are eight Viola sp. listed as New Mexico flora.
Classification
Violas can be grouped in several different ways. Plants may have a compact, mounded growth habit or a spreading, trailing habit. Flowers can be small – under 1-inch in diameter, or large – over 1-inch. Varieties are open-pollinated or hybrid.
While classifying violas may be confusing, their usefulness and beauty in the garden are clear.
Many excellent hybrid violas are avail-able mainly as bedding plants. Hybrid varieties offer exceptional garden performance, good flower production, and uniform growth.
Trailing violas have a low growing, spreading habit that is perfect for hanging baskets, containers or use as a groundcover. Plants spread up to one foot in diameter.
Starting Violas from Seed In-doors: Violas are easy to start from seed. In fact they are quite happy to self-seed all over your garden. But if you would like to start your own in-doors, the process is very straight forward. Be sure to harden-off the seed-lings before transplanting outdoors.
Direct-seeding Violas into the Garden: Weather permitting, you can start viola seed directly in the garden.  Good well-draining soil with organic matter is recommended.
Days to Bloom: Violas begin blooming about 12-14 weeks after planting seeds.
Purchasing Bedding Viola Plants: Violas are often the first seedlings for sale in nurseries in spring in colder climates and at the end of the summer in warm areas.
Look for healthy plants with lots of buds. Don't be overly tempted by plants already in flower. They won't transplant as easily and you'll have a longer season of bloom if the plants are only in bud when purchased.
Cultivation
There are two different times for planting violas depending on your climate. In cold winter areas, plant violas outdoors in early spring. In regions with warm or mild winters, violas can be planted in fall after summer's heat is over.
Violas grow best in rich, moist, well-drained soil with plenty of organic matter. Mix a slow-release fertilizer into the soil at planting time or occasionally fertilize with a balanced fertilizer. Water when the soil is dry to maintain even moisture.
Sunlight: It is important for violas to receive enough sun yet be protected from extreme heat. In warm climates, violas do best when they are shaded during the hottest part of the day. Morning sun and afternoon shade are ideal. Mulch helps keep the soil cool and moist. Violas grow in a wide range of temperatures from 30º-80ºF. They will even survive overnight temperatures in the upper teens if it warms up during the day. Plants flower sparsely and eventually die when temperatures stay above 90ºF for extended periods of time.
Spacing: Plant mounded violas about 6-8 inches apart. Trailing or spreading varieties can be planted 10-12 inches apart.
Plant Care: To promote blooming and extend the flowering period, remove or deadhead faded flowers by pinching off the blooms at the base of the flower stem. Revive leggy or over-grown plants by cutting them back to about 3-4 inches tall. Violas often self-seed, though newer hybrid varieties will not produce plants that look like the ones you planted.
Insects and Diseases: Violas are easy to grow, with few disease or in-sect problems. Avoid diseases such as powdery mildew or botrytis by planting violas in an area that receives plenty of light and good air circulation. Aphids can be washed off with a strong stream of water, or, for severe problems, treat with an insecticidal soap.
Garden Uses
Containers: Viola's size, compact habit, and long flowering period are perfect for containers. Trailing varieties are exquisite in hanging baskets and tumbling over the edge of containers and window boxes.
Edging: Mounded plants make a lovely edging along a path or to define a garden border.
Combinations: Combine with other cool weather lovers like: snapdragons, calendula, and Dianthus. Or tuck violas between spring flowering bulbs such as tulips and daffodils to fill the space as the bulbs fade.
Cut Flowers: Violas also look wonderful indoors, in bouquets and arrangements. You'll notice the scents more when they're indoors.
Versatile Violas
Viola flowers are beautiful in the garden and on the table. Not just for fresh bouquets, violas are very popular edible flowers. Culinary uses include jams and jellies, teas, garnishes and salads. Candied violas are easy to make and look stunning atop cakes, ice cream, cookies, or other desserts.
In addition, viola flowers make wonderful dried or pressed flowers and their smaller size is ideal for a variety of craft uses.
http://plants.usda.gov/core/profile?symbol=VIWI
http://gardening.about.com/od/plantprofiles/a/Violas.htm
http://www.polyploid.net/swplants/