Southwest Plant of the Month – Big Bend Silverleaf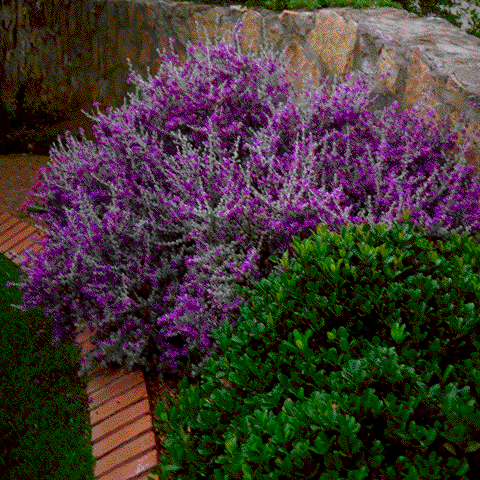 Southwest Plant of the Month
Big Bend Silverleaf
Leucophyllum candidum
Plant Form:  Shrub
Plant Size:  4' x 4'
Plant Type:  Evergreen
Water Usage:  Low
Sunlight:  Sun
Colors:  Blue, Purple
Physical Description:  Densely foliaged, compact, rounded shrub with soft velvety, silver-gray leaves and stems, and intense deep blue-violet flowers following heavy rains from late spring to fall. Very drought tolerant.
Care and Maintenance:  Overwatering and/or poor drainage will quickly kill this plant.
Gardener's notes:  Naturally tidy and compact in full sun. Chihuahuan desert native with several cultivars released by Texas A&M including "Silver Cloud" and "Thunder Cloud". Similar El Paso area native, L. minus, is seldom commercially available but a hybrid with L. frutescens, "Rain Cloud" can be found commercially.
Southwest Plant of the Month material courtesy of NMSU ACES
http://desertblooms.nmsu.edu/plantadvisor/