Southwest Plant of the Month – Black locust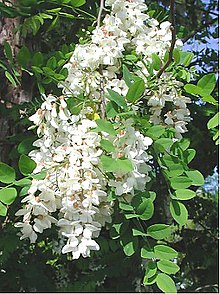 Black locust – Robinia pseudoacacia
Plant Form: Tree
Plant Size: 50′ x 25′
Plant Type: Deciduous
Water Usage: Low
Sunlight: Sun
Colors: White
Physical Description: Tree has an open sparse branching habit. Bark is deeply furrowed. Showy display of creamy-white fragrant flowers in the spring. Care and
Maintenance: Weedy, thicket-forming if not controlled. Thorns. Root suckering can become a nuisance. Gardener's notes: The wood is hard and dense. Often
used as posts because wood is rot-resistant and strong. Once widely planted for shelter belts, and can be seen around old farmsteads throughout the Mesilla valley.
Southwest Plant of the Month material courtesy of NMSU ACES
http://desertblooms.nmsu.edu/plantadvisor/